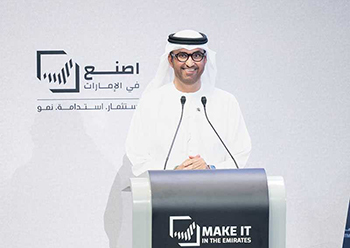 Announcing the incentive at the second Make it in the Emirates Forum, Dr Sultan Al Jaber, Minister of Industry and Advanced Technology, said the UAE planned more than 30 new industrial projects, representing more than $1.6 billion in investments.
"These projects include pioneering initiatives such as setting up the first hydrogen electrolyser plant in the UAE," he said. Some $1.63 billion of financing solutions for the industrial sector were also announced along with 5,000 jobs for UAE nationals in industry through the Industrialist Programme.

Key achievements
The new set of procurement opportunities would build on the previous forum's offtake agreements, he said.
"One of the key achievements of last year's forum was several leading national companies announcing their intention to invest $29.9 billion over the next decade to purchase 300 products from local manufacturers," Dr Al Jaber said.
"I am pleased to share with you that in the first year alone, 28% of these offtake agreements have been implemented, representing a total value of $8.4 billion."
Dr Al Jaber added: "I invite all attendees and participants to explore through this forum the incentives and enablers provided by various economic development departments, industrial and special zones, financing institutions, and national companies."
Industrial exports
The UAE's industrial exports reached $47.6 billion in 2022, growing 49% compared to 2021. The industrial sector's contribution to GDP rose to $49.5 billion in 2022, a 38% increase on 2020.
The Make it in the Emirates Forum is organised by the Ministry of Industry and Advanced Technology in partnership the Abu Dhabi Department of Economic Development (Added) and Adnoc.