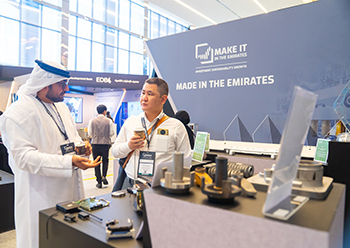 The UAE is poised to play a pivotal role in global trade with its exports projected to hit a whopping AED2 trillion ($540 billion) by 2030 at an annual growth rate of 5.5% even as global trade is expected to reach AED120 trillion.
This is according to Standard Chartered which revealed its latest research report titled "Future of Trade: New opportunities in high-growth corridors".
Trade corridors anchored in Asia, Africa, and the Middle East are expected to outpace the global trade growth rate by almost four percentage points, propelling the combined trade volume in these regions to an astounding AED53 trillion, accounting for 44% of global trade by 2030,
India largest export destination
India is set to remain the UAE's largest export destination, while exports to Turkiye, Vietnam and Singapore are among the fastest growing.
Driven by the government's unwavering commitment to facilitating cross-border trade, the UAE is undergoing substantial capacity expansions in critical industries.
Notably, the country has achieved an impressive export diversity ratio of 0.54 per cent, surpassing the global average. (Export and import diversities are measured by an index; lower number indicates high diversity; global average for export diversity is 0.68 and for imports is 0.41).
This is due to the country's efforts in diversifying exports into non-oil sectors through relaxing foreign ownership rules and offering attractive incentives.
Success in diversifying exports
Rola Abu Manneh, Chief Executive officer, Standard Chartered UAE, said: "The UAE's success in diversifying its exports along with the development of new trade corridors positions the country favourably for sustained growth and reinforces its economic resilience. This achievement is a direct result of the government's dedicated efforts to facilitating cross-border trade."
She concluded: "These trade projections further cement the UAE's position as the regional trade hub. The UAE continues to advance trade integration, and spearheads diversification efforts with policies supporting innovation and sustainability. We maintain a positive outlook on the UAE's ability to capitalise on these opportunities and sustain its upward trajectory in global trade arena."