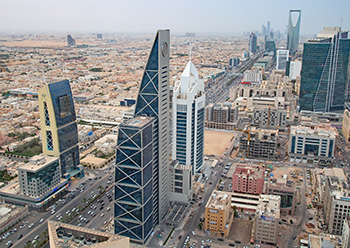 Industrial sector is one of the major areas identified to further non-oil growth in Saudi Arabia and the kingdom is making available to investors a number of opportunities.
Saudi Arabia's national strategy for industry aims for the private sector to lead the industrial sector by 2035. This will be done through focusing on the principles of global leadership, diversity, and technology adoption.
Current capabilities, technologies and qualifying human capital can attract 814 opportunities, with an investment size of SR979 billion ($260 billion) in 2035, Saudi Minister of Industry and Mineral Resources Bandar Alkhorayef said at the Sixth Riyadh Industrialists Council meeting organised by the Riyadh Chamber of Commerce.
Alkhorayef said the gains achieved through Saudi Vision 2030 were remarkably substantial.
He highlighted the need to strengthen small factories, expanding large factories, and enhancing factories to global standards.
Alkhorayef said many opportunities are available in the Kingdom's industrial sector and international companies are also taking keen interest in making investments in Saudi Arabia.
The Saudi Ministry of Industry and Mineral Resources issued 124 new industrial licences which brought in investments worth SR2.4 billion ($640 million) during the month of January 2023, data said.
The licences were distributed across five industrial categories, with 29 licences issued for food manufacturing, 18 for non-metallic mineral production, 12 for manufacturing chemicals and chemical products, 11 for metal product manufacturing (excluding machinery and equipment) and 8 for the manufacturing of rubber and plastic products.
Data from the ministry indicated that small businesses acquired 86% of new industrial licences, medium-sized enterprises 11%, and micro-sized businesses 2.5%. Overall, national factories hold 80% of all licences, followed by foreign establishments which hold 10.5% of licences, and joint investment establishments which hold 10%.

10,633 UNITS WORTH SR1.4 TRILLION
According to data from the Ministry's National Centre for Industrial and Mining Information for January 2023, the number of existing factories in the kingdom and those under construction totalled 10,633, with SR1.4 trillion worth of investments.
Of these, 164 factories started production in January 2023 with an investment of SR2.7 billion. National factories accounted for 89% of this total, followed by foreign-owned factories at 7%, and joint factories at 4%. Non-metallic metal factories took the lead with 32 factories, followed by 31 food factories, 21 fabricated metal factories, 18 rubber and plastics factories and 12 chemical factories.
Meanwhile, the Saudi Local Content Coordination Council revealed that the value of opportunities that were developed and launched in the Kingdom during the past year, with the aim to increase local content, reached about SR24.8 billion ($6.6 billion).
Similar to other major economies, SMEs play a key role in Saudi Arabia's economic mix. According to the latest data from Monsha'at (the country's General Authority for SMEs), the kingdom now has over 750,000 SMEs – together they contribute around 20% of the GDP and employ 62% of the private sector workforce.
However, Saudi Arabia's Vision 2030 aims for further growth of the SME segment, with the contribution to GDP envisioned to hit 35% by 2030 – which given the strong sector-wide economic growth agenda of the Kingdom means that the SME scene will need to shift gear twice to realise its ambition, said a KPMG report.
With specific focus on industrial sector, experts from KPMG said a range of challenges lie ahead. These challenges cover both at institutional and sector level, as well as in the different segments of the varied industrial landscape.
At the macro level, SMEs are for a large part dependent on government policy for foreign investments and the regulatory ecosystem, among others. Meanwhile, government policy also plays a large role inthe development of the labour market, with the SME sector currently facing a shortage of skilled talent.
Especially for foreign industrial groups seeking to establish themselves in the Kingdom, such factors can be key determinants of their broader location decision as to where they should base their operations within the Gulf Cooperation Council, they said.
"The broad challenges that may plague any industrial SME looking to establish itself in the kingdom's local industrial complex include fluctuations in demand and supply, attracting investments, attracting a skilled workforce with the right experience and regulatory challenges," said Kenan Nouwailati, Head of Procurement & Supply Chain at KPMG in Saudi Arabia.
Omar Alhalabi, a Saudi-based Director in KPMG's Strategy Group, added that government policy also plays a role in the sector's resilience to black swan events, such as the Covid-19 pandemic or major global disruption to supply chains. "The challenges faced by SMEs can be exacerbated by global occurrences and shocks."

NAVIGATING CHALLENGES
Against this backdrop, KPMG's report puts forward a number of recommendations to government policy makers. "A government strategy coupled with an ecosystem to boost the industrial SME presence can set up SMEs for long-term success and equip them to deal with the challenges they face in the Kingdom," said Nouwailati.
This strategy should span policies that mitigate key challenges, and at the same time lay the foundation for a supportive ecosystem. According to Alhalabi, much ground has already been made in recent years. "For example, the ease of doing business in the Kingdom has improved significantly over the last few years."
The Kingdom has been making changes to regulations to boost entrepreneurship, most recently in June 2022 with the new Companies Law, which is meant to improve financing and business dynamics in all sectors of the economy. The government has also introduced regulations to prioritise local SMEs in government tenders and procurement, Nouwailati said.
KPMG's analysis nevertheless shows that more still needs to be done. As one example, "difficulties remain in navigating the regulatory framework for industrial SMEs and investors," and in the procurement realm, "a lack of visibility into the government tender pipeline remains, which hinders industrial SME planning and operations."
Alhalabi said: "As Saudi Arabia looks to diversify its sources of revenue and increase the contribution of SMEs and the industrial sector to the GDP, supporting industrial enterprises will be vital. A concerted effort to guide industrial SMEs through their journey from setting up their industrial supply chains to finding their way onto the global market will help bring Saudi Arabia closer to its Vision 2030 goals for the industrial sector."

VEHICLE FACTORIES
Meanwhile, a report said 160 vehicle factories are now online in Saudi Arabia, producing a range of cars, engine parts, and accessories.
The factories include 33 for parts, accessories, and engines, 21 for vehicles and structures including processing works, and 106 for trailer and semi-trailer vehicles or trucks, said an Arab News report.
The kingdom aims to produce about 300,000 cars by 2030, and will account for 50 percent of car sales in the Gulf Cooperation Council countries by 2025 from about 1.15 million cars, 62,000 of which are electric cars.
Electric cars are projected to account for between 5 and 7 percent of the growth in the kingdom, according to the National Center for Industrial Development.
Three of the major manufacturing projects currently in Saudi Arabia include Lucid, Ceer — both dedicated to electric vehicles — and SNAM, for conventional cars.