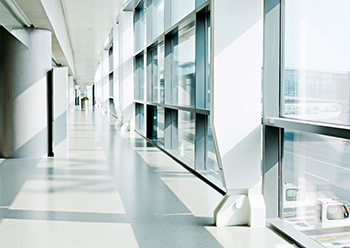 Global coatings company PPG launched its new epoxy intumescent fire protection coating designed to meet the demands of modern architectural steel, including up to three hours of cellulosic fire protection.
According to PPG, Steelguard 951 coating can provide up to 3,500 microns' dry film thickness in a single coat. It is also ready to handle the day after application due to its rapid curing properties while not requiring a top coat, reducing project time and costs, the company said.
PPG reports that the coating is based on its patented flexible epoxy technology, which offers enhanced durability and edge retention properties and reduces the risk of cracks during handling and transportation.
The coating reportedly provides effective corrosion protection for very corrosive atmospheric environments up to ISO 12944 C5 without the need for a top coat, which also reduces project time and costs to achieve results. Additionally, it has been tested in accordance with all recognised national and international fire and corrosion standards, including EN 13381-8, BS 476, ISO 12944, GB 51249 and GB 14907 (for specified environments).
In a fire situation, the coating expands from a thin, lightweight film into a thick, foam-like layer that insulates the steel and maintains its structural integrity, providing more time for people to escape and limiting damage to buildings and assets, the company said.
"Structural steel plays a critical role in modern architecture by enabling buildings to meet specific fire protection and corrosion resistance according to their function," said Richard Mann, PPG global product manager, passive fire protection, Protective and Marine Coatings.
"PPG Steelguard 951 coating is unique in combining an aesthetically-pleasing finish with high corrosion protection and, most importantly, the ability to maintain the steel's stability in the event of a fire,"
With headquarters in Pittsburgh, PPG operates in more than 70 countries and reported net sales of $17.7 billion in 2022. The company serves sectors such as construction, consumer products, industrial and transportation markets and aftermarkets.