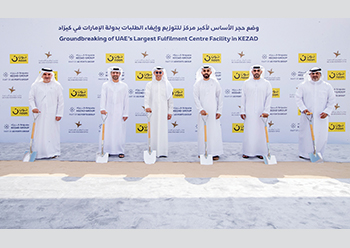 Kezad Group and noon officials at the ground breaking ceremony
Khalifa Economic Zones Abu Dhabi – Kezad Group, and noon.com broke ground on the UAE's largest fulfilment centre in Abu Dhabi, which will form part of an anchor investment by noon into the emirate's fast-growing e-commerce space.
The 252,000 sq m fulfilment centre facility is being designed and developed by Kezad Group under a Build-to-Suit agreement and is scheduled for delivery in 2024.
With the introduction of new automation technologies for storage, material movement, and sorting, the facility will enable rapid delivery of products to millions of noon customers throughout the UAE and will bolster the local economy with the creation of several thousand new jobs.
The UAE's e-commerce market has grown exponentially in recent years, with customers increasingly moving toward the variety, convenience, and price benefits of online shopping.