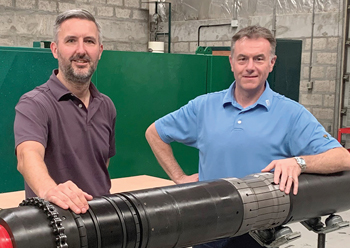 Paul Higginson (left) and Willie Morrison
Well Completion Equipment design, manufacturing, and, services company, Viking Completion Technology (Viking), is celebrating a successful 2022 and its strong position as it enters Q4.
Now in its 26th year of operations, the company, which is headquartered in Dubai, has been exporting its specialised completion technology globally for more than 20 years and this year alone has supplied technology to 16 countries across four continents including five Middle East and North Africa (Mena) countries.
In the first half of this year the company has delivered 70 global projects, many of which were with CRA (Corrosion-Resistant Alloy) materials, many of which required design engineering and qualification testing of Viking's core technology API 11D1 Packers, API 19AC equipment and API 14A Safety Valves. Adding to its portfolio, Viking's patented 'Dual Cut to Release Packers' were successfully run for a major UAE operator in June and the equipment was delivered for two separate upcoming Gas Well (V0) technology trials, in the region.
Viking has a global track record and is highly regarded for its API 11D1 certification. Its in-house testing is robust and validation facilities include, autoclave oven capable of heating products to 250 degrees Celsius, hydraulic ram and press capable of inducing compressive and tensile loads in excess of 500,000 pounds, gas testing capability, 20,000 psi pressure pumps, electronic data acquisition for pressure and for temperature.
Viking Completion Technology Managing Director, Willie Morrison, said: "The Viking Team has remained strong during the last two years creating a solid foundation to take advantage of the increased levels of activity in 2022. This year we've secured new contracts, new customers in new countries and built on our existing customer relationships with numerous contract extensions. The remainder of 2022 looks extremely promising, and planning is in process to grow the business into new areas globally.
Sales and Operations Director, Paul Higginson, who joined Viking in January 2022, added "The size and diversity of our customer base is a key strength of Viking's and is evident in the level of exports from the UAE to Mena, The Americas, Europe, Asia and Australia. Every area is building activity and with ongoing technology trials, and an increasing growing patent portfolio, we are well placed to achieve growth in 2022 and beyond."
Formed in 1997 and based in the Jebel Ali Freezone, in Dubai, Viking has consistently delivered high specification completion equipment to customers in the UAE, GCC and around the world, for 25 years. Viking's experienced team prides itself on a customer facing approach, seeking out problems and quickly turning around, effective, upper completion solutions.