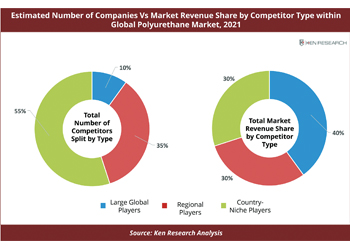 Global polyurethane market: a dynamic market
A few diverse global players dominate the global polyurethane (PU) market holding 40 per cent of revenue share despite presence of about 250 competitors comprising a large number of country-niche players and some specialist players, finds a recent market study on Global Polyurethane Market by Ken Research.
Plastic substance polyurethane comes in a variety of shapes and sizes. It is the material of choice for a wide range of end-user applications and may be modified to be either rigid or flexible. Polyurethanes are adaptable, contemporary, and secure. They are employed in a wide range of processes to produce a wide range of consumer and industrial goods that are essential in making our lives more practical, cozy, and ecologically friendly, the report noted.
Ken Research shares three key insights on the competitive landscape of this dynamic market from its latest research study.
1. Global players that constitute just 10 per cent of total number of competitors hold largest revenue share of 40 per cent while regional companies also have a strong presence and hold 30 per cent share.
A comprehensive competitive analysis conducted during the research found that the global polyurethane market is highly competitive with 250 players which include globally diversified players, regional players as well as a large number of country-niche players. The large global players comprise about 10 per cent in terms of the number of companies and hold 40 per cent of the market revenue share followed by regional players which account for 30 per cent of the market revenue. Most of the country-niche players are foam and raw material suppliers. Some of these who successfully evolve to create application-specific solutions often get acquired by large global players seeking to grow and diversify quickly.
2. Leading specialist global players' ongoing efforts to provide range polyurethane foams to multiple end user industries are driving revenue growth of this market.
Detailed comparative analysis of key competitors available within the research study shows that specialist companies, such as Foamcraft Inc, and Laxness are highly focused on providing a significant number of polyurethane products that can be used across multiple industries, including furniture, building and construction, and more.
3. A temporary halt in manufacturing activities caused by the prolonged Covid-19 hindered the global production of raw materials.
Government restrictions on travel, lockdowns, and factory closures caused by the Covid-19 pandemic affected the polyurethane industry. The building and construction sector's stagnancy harmed the polyurethane market. Storage apparatuses, such as specific refrigerators, where Covid-19 vaccine vials can be kept, are prepared using rigid polyurethane foams. These are deployed in the global shipment of vaccines.
Due to the Covid-19 pandemic, there was a temporary halt in manufacturing activity that hampered the production of raw materials around the world. It affected both the market and other concurrent activities in the end-user segment. Several raw material orders, including those for MDI, TDI, polyols, and isocyanates, were delayed or canceled, resulting in production bottlenecks.
However, the building and construction industry, along with the furniture market, is in a recovery mode, putting the polyurethane market back on the growth trajectory.