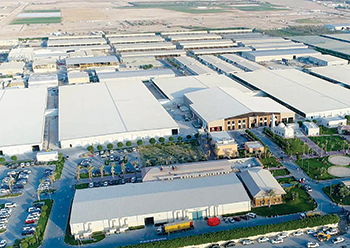 Baladna Food Industries' farm in Al Khor, Qatar
Veolia Water Technologies has extended the wastewater treatment capacity at Baladna Food Industries' farm in Al Khor, Qatar, reducing the Qatar's leading dairy producer's water consumption by more than 50 per cent.
Following the completion in 2020 of an initial stage to the partnership, Baladna renewed its relationship with Veolia to extend the wastewater treatment capacity at its farm located north of Doha.
Baladna is home to over 24,000 cows that are spread over 2.6 million sq m, and will now recycle 22,000 cu m per day (cmpd) of wastewater.
Committed to ecological transformation, Veolia Water Technologies is working with Baladna Food Industries to support their sustainability plan and recycle their wastewater. The partnership started in 2020 with the design and construction of a 6,000 cmpd wastewater treatment plant, allowing for the treated water to be reused for irrigation within the farm and, following further treatment by reverse osmosis, to spray and cool the cows during hot summer months. Based on this successful project, Baladna decided to go further in 2021 by tripling the treatment capacity to 22,000 cmpd.
Baladna CEO, Piet Hilarides expressed his enthusiasm for the partnership with Veolia: "After a first successful project with Veolia, we strengthened this partnership in line with Baladna's commitment to sustainable water management. The holistic approach to reuse treated wastewater and limit environmental impact of open lagoons are key developments. We are enthusiastic to expand the treatment capacity of reusable water on a larger scale, reducing our freshwater consumption by more than 50 per cent. This project marks a major milestone on the sustainability journey of Baladna and will significatively contribute to improving the environment for the surrounding Al-Khor area."
The system includes an initial separation step with a capacity of 22,000 cmpd. 12,000 cmpd will be recirculated for flushing barns, with the remaining 10,000 cmpd further treated in an MBR system followed by a polishing reverse osmosis step to produce water to replace the potable water currently used in the soaking and misting systems of the farm.
Thierry Froment, CEO Veolia Water Technologies Middle East explained: "This project will reduce the strain on freshwater resources while eliminating the need for huge water treatment lagoons and the visual and odor pollution caused. This collaboration also highlights a significant achievement in the sustainability plan of Baladna and, in line with Veolia's purpose of ecological transformation, showcases a holistic way to reuse treated wastewater. We are extremely proud of the relationship between Baladna and Veolia in Qatar."
Meanwhile, Veolia Water Technologies signed an agreement with Orange Business Services to support the growth of Hubgrade, its smart digital platform, and develop innovative digital services for its customers worldwide.
According to the company, Hubgrade digital platform enables its customers to remotely view, anticipate and optimize water treatment plants and equipment. This platform allows municipalities and industries to optimise the performance of their sites while sustainably preserving water resources.
With expertise across the entire digital value chain, Orange Business Services supports the project with more than 25 types of expertise around digital, artificial intelligence, IoT, data analytics, and cloud, as well as cybersecurity with Orange Cyberdefense. In addition, Orange has extensive knowledge in business data collection solutions from its experience with the industrial sector.
With the mindset of continuously improving all of its digital services, Veolia Water Technologies turned to Orange Business Services, able to support them at the heart of their business needs, addressing the challenges of modernization and differentiation.
Veolia Water Technologies and Orange Business Services have jointly defined several co-innovation projects.