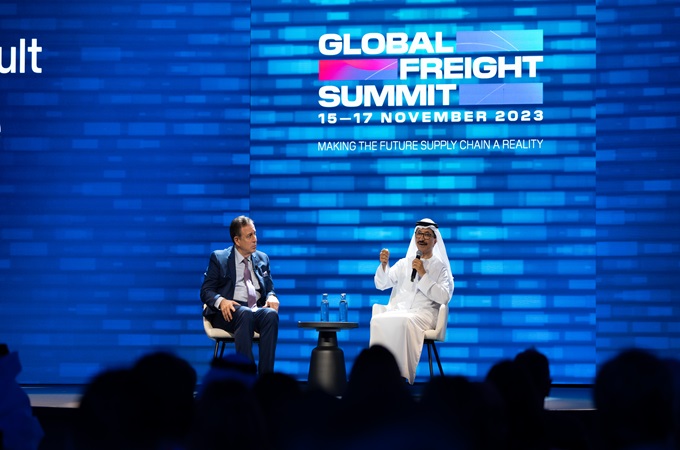 Industry experts at the summit
The second edition of Global Freight Summit, convened by DP World, is underway (November 15-17) at the Coca Cola Arena, Dubai, and has drawn in more than 4,000 participants from across the world to address the industry's challenges.
Over the course of the summit, a global conference of experts in transport, logistics, supply chains, and related fields, participants will hear insights from industry leaders, discussing actionable strategies to address the biggest challenges.
The summit, themed 'Making the future supply chain a reality', aims to build on the success of the inaugural event in 2022, which attracted over 1,500 visitors and participants from more than 155 countries.
The summit, comes amidst new research by DP World, highlighting a new sense of optimism over the creation of more resilient supply chains in the coming years.
Despite acknowledging challenges from geopolitical uncertainties, communication gaps, and heightened competition, more than 60% of freight forwarders said they were 'very optimistic' as we approach 2024. The research is based on the viewpoints of dozens of freight forwarders, shedding light on their collective outlook on overcoming hurdles.
This year's summit was inaugurated by His Highness Sheikh Ahmed bin Mohammed bin Rashid Al Maktoum, Second Deputy Ruler of Dubai. It was attended by speakers and distinguished guests including Sultan Ahmed bin Sulayem, Group Chairman and CEO, DP World, Helal Saeed Al Marri, Director General, Dubai Department of Economy and Tourism, Steve Wozniak, co-founder Apple Computer Inc., J B Straubel, CEO, Redwood Materials & Co-Founder, Tesla Motors, and many more.
The survey underscores the need for greater collaboration throughout the supply chain to boost efficiency, a sentiment shared by 40% of respondents. Additional key factors for resilience include reducing regulation (15%), embracing new technologies (12%), and a heightened focus on Electric Vehicles and last-mile delivery (10%).
Notably, 34% of respondents believe that the majority of the supply chain is already digitalised, with 31% saying they have achieved full digitalisation. The role of technology was highlighted as a crucial enabler for more efficient supply chains, which is critical to future-proofing the industry.
Delving into broader industry concerns, the survey looked at the importance of supporting small to medium sized enterprises (SMEs) in the face of the current $2.5 trillion trade finance gap. For 26% of freight forwarders, improving access to trade finance is key to helping SMEs expand internationally, alongside the need to improve technological literacy (14%).
When it comes to operating sustainably, 59% of freight forwarders surveyed are actively exploring alternative modes of transport or offering emissions tracking tools to their clients.
Sultan Ahmed bin Sulayem, Group Chairman and CEO of DP World, said: ""Amidst geopolitical uncertainties, heightened competition, regionalisation and rising inflation, the logistics sector must create new tools and solutions to navigate these economic headwinds. Strategic investments in technology, infrastructure, and pioneering new trade routes are essential for realizing a future supply chain that can overcome today's challenges."
Mike Bhaskaran, Group Chief Operating Officer of Digital Technology, DP World, a leading provider of worldwide smart end-to-end supply chain logistics, said: "In a new trade and logistics reality rich with opportunities for innovation, we're incredibly excited to convene our peers across the industry to share best practices and insights on how to make the future supply chain a reality. We look forward to welcoming our esteemed guests and partners to this landmark event." – TradeArabia News Service