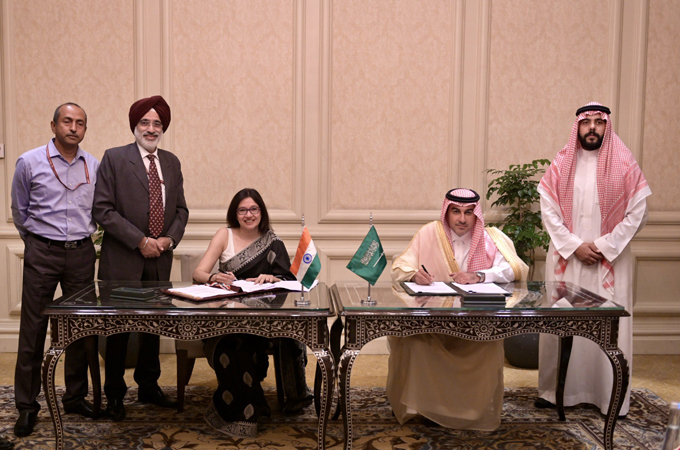 Saudi Ministry of Investment and India Invest officials sign <br>a joint work programme deal
More than 50 memoranda of understanding (MoUs) and agreements were signed during the India-Saudi Investment Forum, held in New Delhi on Monday coinciding with a state visit to India from HRH the Crown Prince Mohammed bin Salman.
The visit follows the G20 leaders meeting, where the India-Middle East-Europe Economic Corridor was announced.
The forum brought together policy makers, business leaders and innovators from both countries.
The landmark agreements covered sectors including ICT, entrepreneurship, chemicals, energy and advanced manufacturing. These include:
• An MoU between Al Jomaih Energy and Water and Avaada Energy Private Limited for collaboration for EPC and co-development of solar, wind, hybrid and battery energy storage solution projects in Middle East;
• A definitive agreement with the goal of establishing Petromin Express service centres in HPCL-operated fuel stations throughout India, between Petromin and HPCL;
• An MoU to cooperate in energy technology between Desert Technologies and Goldi Solar;
• An MoU in human resources between ARCO and Indian Personal Export Promotion Council and the Association of Overseas Recruiting Agents;
• An MoU in agribusiness between Alshalan Co and DD International and AMDD Foods, for the former to acquire a stake in both companies.
OFFICE IN INDIA
Further to the agreements signed today, the Ministry of Investment of Saudi Arabia is in the process of opening a country office in India to streamline the process for Indian companies to invest in Saudi Arabia, while the establishment of an agreement between both nations is underway to build a bridge for venture capital and funding for startups, said the statement.
The India-Saudi Investment Forum was attended by Khalid Al-Falih, Minister of Investment of Saudi Arabia; Piyush Goyal, Minister of Commerce and Industry of India; and Nivruti Rai, Managing Director and CEO of Invest India.
Presentations were delivered by Invest Saudi, the Global Supply Chain Resilience Initiative, the Economic Zones and Cities Authority, Invest India and Gujarat International Finance Tec-City, among others at the forum.
Meanwhile, the India-Middle East-Europe Economic Corridor announced at the G20 summit involves collaboration between the US, India, Saudi Arabia, UAE, France, Germany, Italy, and the EU. The agreement is being hailed as transformative for regional investment.
Minister Al-Falih said: "We are very proud to be partners with India and hopefully seen here as contributors to this great success. We are blessed by many things in Saudi Arabia and India. I think one of the most important blessings we have is two of the world's most energetic, effective, and visionary leaders. It is because we realised that going forward, the centre of gravity of the global economy has already moved to the global south."
India and Saudi Arabia share deep diplomatic and economic ties. The India-Saudi investment forum is a continuation of a relationship that is underlined by the Indian Prime Minister Narendra Modi's visits to the Kingdom in 2016 and 2019 and HRH the Crown Prince's trip to India in 2019. In terms of trade with Saudi Arabia, India ranks second in terms of the volume of trade in 2022, amounting to SR196.7 billion and recording a growth rate of 51% compared to 2021. There are also more than 3,000 Indian firms with a foreign investment licence in Saudi Arabia. - TradeArabia News Service