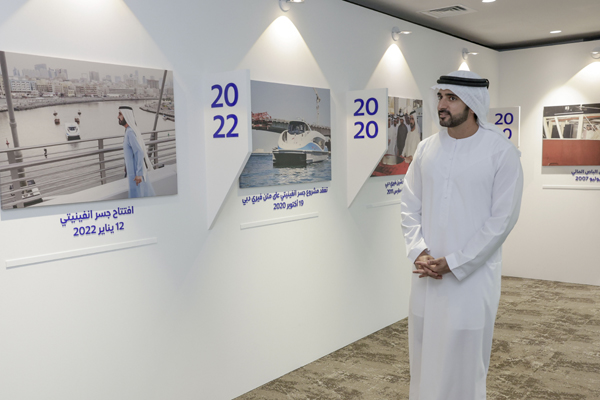 Dubai has launched its marine transport master plan for 2030 which encompasses a 188% expansion of the marine transport network, a 400% increase in passenger lines and the manufacturing of the world's first electric abra using 3D printing technology.
The plan targets a 51% increase in the number of marine transport users, from 14.7 million to 22.2 million annually by 2030. Additionally, it outlines a 188% jump in the total length of the marine transport network, from 55 km to 158 km, reported Wam.
Another key element of the plan will see marine transport stations go up from 48 to 79 stations along the Dubai Creek, Dubai Water Canal, the coastline of the Arabian Gulf and various waterfront projects in accordance with a well-thought-out strategy.
The plan, which was approved by Sheikh Hamdan bin Mohammed bin Rashid Al Maktoum, Crown Prince of Dubai and Chairman of Dubai Executive Council, also includes increasing passenger transport lines from seven to 35, marking a 400% surge, besides expanding the marine transport fleet by 32%, from 196 to 258 marine vessels.
During his visit to the Roads and Transport Authority (RTA), Sheikh Hamdan reviewed the master plan for scaling up Dubai's marine transport system through to 2030.
He was given an overview of key aspects of the plan by Mattar Al Tayer, Director General and Chairman of the Board of Executive Directors of the Roads and Transport Authority (RTA).
Sheikh Hamdan also reviewed RTA's initiative to manufacture the world's first electric abra using 3D printing technology in partnership with the private sector, said the Wam report.
Designed to carry 20 passengers, the 3D-printed boat features a design that melds aesthetics and heritage cues of the original abras. Aligned with the Dubai 3D Printing Strategy, this initiative slashes manufacturing time by 90% and enables 30% cost savings.
He later reviewed the operational metrics and performance of the Al Garhoud RTA Marine Maintenance Centre (for abras, ferries, and water taxis).
The biggest marine maintenance facility in the region, it spans 5,000 sq m comprising five distinct workshops, a 250-m pier, a dock capable of accommodating boats up to 32ms in length, a boat crane with a lifting capacity of up to 100 tonnes, three storage areas, zones designated for marine and external tasks, administrative spaces and an employee rest zone.
Al Tayer said RTA was planning to introduce a real-time monitoring system empowered by Artificial Intelligence to analyse data, predict faults and plan ahead for potential spare part requirements.
The autonomous electric abra boasts a host of advanced features highlighted by zero carbon emissions, operating and maintenance cost savings of 30% and the elimination of noise compared to diesel-powered abras, he stated.
Equipped with two electric motors, it is capable of achieving a maximum speed of seven knots. It is fitted with an autonomous control system and four lithium batteries that ensure an operating time of seven hours., he added.