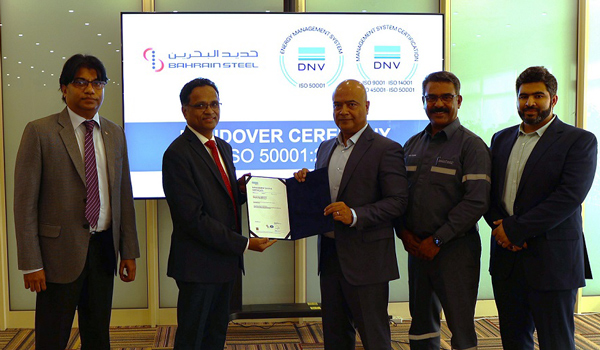 Bahrain Steel officials with the certification
Foulath subsidiary, Bahrain Steel, a leading producer and global supplier of high-grade iron-ore pellets, has obtained the ISO 50001:2018 certification for its energy management system. The certification was awarded by DNV, an international accredited registrar and classification society.
Bahrain Steel has implemented the standards required to become more energy efficient, cost effective and to help conserve energy resources. Energy management systems ensure that all aspects of energy are monitored, and targets are aligned with the sustainability strategy of the organisation.
The energy management system will integrate into the organisation's existing integrated management system whose components include quality, environment, occupational health, and safety.
Sustainable business practices
Dilip George, Group CEO of Foulath Holding, said: "Bahrain Steel's ISO 50001 certification is a testament to our organisation's commitment to sustainable business practices. Over the last five years, Bahrain Steel has made significant investments in energy efficiency initiatives, and the ISO 50001 certification is a validation of our accomplishments in energy savings. With both energy and environment management systems in place, we are well positioned to achieve our sustainability objectives."
Energy management systems formalise the organisation's approach towards energy use and equips the organisation to cope with evolving regulations aimed at reducing emissions.
ISO 50001 certification enables an organisation to maximise its energy savings potential by continuously monitoring energy-intensive assets and implementing new energy efficiency measures, thereby improving operations and reducing costs.-- TradeArabia News Service