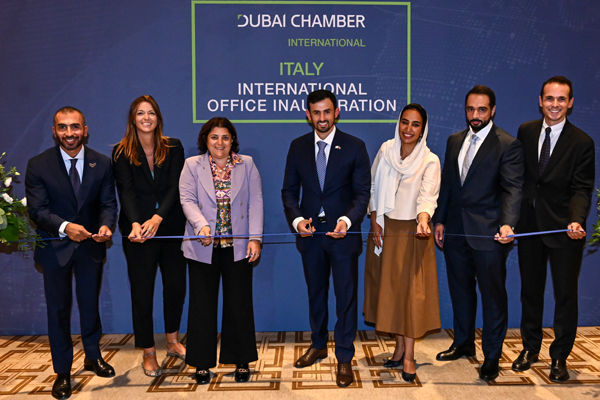 Officials at the launch of the office.
Dubai International Chamber, one of the three chambers operating under the umbrella of Dubai Chambers, has inaugurated a new representative office in Milan to boost trade and investment between Dubai and Italy.
The opening of the office further strengthens the chamber's presence in Europe following the launch of its London office in June, and increases its growing network of international representative offices to 23 worldwide, the chamber said in a statement.
The launch comes as part of the 'Dubai Global' initiative launched by Sheikh Hamdan bin Mohammed bin Rashid Al Maktoum, Crown Prince of Dubai and Chairman of the Executive Council of Dubai, which seeks to establish an integrated network of 50 representative offices around the world by 2030.
The initiative is designed to reinforce Dubai's position as one of the world's leading commercial hubs by attracting investments, talent, and new business to the emirate while supporting the international expansion of Dubai-based companies into 30 priority markets, said the statement.
The Milan office was opened in the presence of Naser Al Khaja, Charge d'affaires at the UAE Embassy in Italy, and Salem Al Shamsi, Vice President of Global Markets at Dubai Chambers and other officials.
Mohammad Ali Rashed Lootah, President and CEO of Dubai Chambers, said: "Strengthening our presence in the European market represents another important step that will enable us to capitalise on the opportunities created by the Dubai Economic Agenda and bring us closer to achieving the objectives of the emirate's five-year foreign trade plan."
"Our new office in Milan is set to drive further growth in Dubai's non-oil trade with Italy and other European countries, as well as increased strategic investments from businesses in both markets. I am confident this strategic opening will elevate our strong bilateral relations to new heights," he added.
Al Khaja said:"Over the years, the UAE has successfully established strong relationships with Italian companies and institutions. Today, we are pleased to witness the enhancement of these partnerships with the opening of a representative office for Dubai International Chamber in Milan. This reaffirms our mutual goal of strengthening ties and mutual business opportunities between the two countries, as well as building a commercial and investment network between two dynamic markets."
The office in Milan, which is the chamber's eighth international representative office to open since the beginning of the year, will build strong relationships with key public and private sector stakeholders and deliver a comprehensive range of support to the Italian business community. In addition to assisting Italian companies seeking to enter the Dubai market and expand through the emirate, the office will support and guide Dubai-based businesses that plan to enter the Italian market throughout every stage of their international growth journeys," he added -TradeArabia News Service