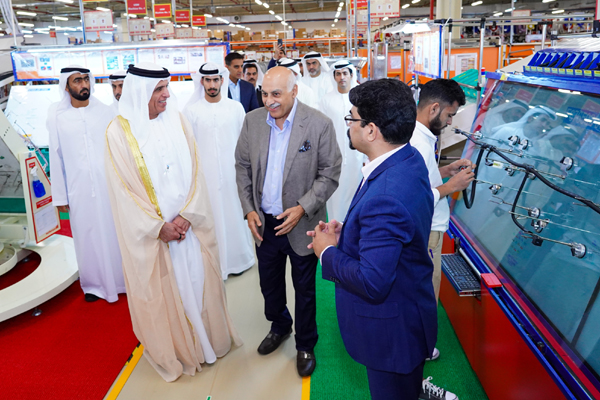 Motherson, one of the largest global companies specialising in manufacture of wiring harnesses for commercial and other special-purpose vehicles, has opened its new facility in Ras Al Khaimah Economic Zone (Rakez).
The company, which has base in 41 countries across five continents, employs over 180,000 people and is a key supplier to German, Spanish, French, US Japanese and Indian automotive manufacturers.
This is Motherson's eighth facility in the region, with others located in Dubai and Sharjah, said a statement from the group.
The new plant was inaugurated by HH Sheikh Saud bin Saqr Al Qasimi, Supreme Council Member and Ruler of Ras Al Khaimah, today in the presence of other senior officials including Rakez Managing Director Sheikh Mohammed bin Humaid Al Qasimi, Motherson Chairman Vivek Chaand Sehgal.
Sheikh Saud said the emirate's vision for sustainable development was strengthening its position as a leading destination for investments and that its local economy was evolving to increase its contribution to the overall growth of the UAE.
"In Ras Al Khaimah, we have an integrated strategy to diversify the economy and achieve balanced growth across all sectors in a manner that ensures the sustainable development of our emirate and adherence to our national objectives," he stated.
The new Motherson factory will be a strong addition to the thriving manufacturing sector in Ras Al Khaimah, which contributes about 30% to the emirate's GDP, he added.-TradeArabia News Service