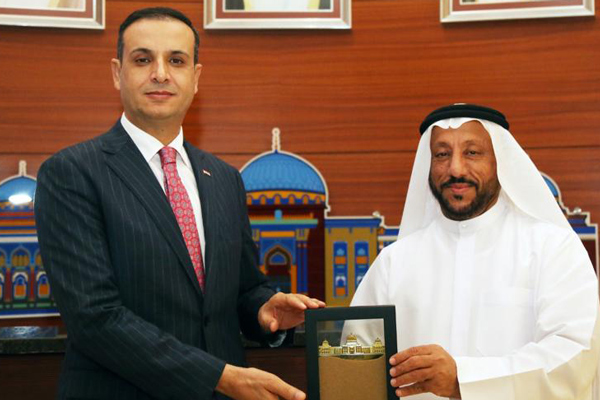 Al Owais and Al-Jubouri
The Sharjah Chamber of Commerce and Industry (SCCI) and the Embassy of Iraq in the UAE have discussed the ongoing preparations to host the 1st edition of the Gulf-Iraqi Business Forum.
Scheduled to take place from September 26 to 27, the event will be held under the patronage of Sheikh Sultan bin Mohammed bin Sultan Al Qasimi, Crown Prince and Deputy Ruler of Sharjah.
Themed "Partnership for a Promising Economic Future, the forum will be organised by the Federation of GCC Chambers in collaboration with the UAE Federation of the Chambers of Commerce and Industry (FCCI), the Iraqi Federation of Chambers of Commerce, and the Sharjah Chamber of Commerce and Industry. It will be supported by the General Secretariat of the Cooperation Council for the Arab States of the Gulf (GCC).
Discussions
The discussions took place during a meeting at the headquarters of the SCCI between Abdullah Sultan Al Owais, Chairman of the SCCI, and Dr Mudaffar Al-Jubouri, Ambassador of Iraq to the UAE, along with his accompanying delegation.
The gathering was also attended by distinguished figures, including Mohammad Ahmed Amin Al Awadi, Director-General of Sharjah Chamber of Commerce and Industry (SCCI), Abdulaziz Mohammed Shattaf, Assistant Director-General of the Communication and Business Sector at the Sharjah Chamber, and Fatima Khalifa Al-Muqrab, Director of the International Relations Department in the Chamber.
Representatives from the Sharjah Chamber outlined the steps being taken to ensure the successful hosting of the forum. Both sides discussed crucial measures aimed at achieving the forum's core objectives, which include fostering development in Gulf-Iraqi trade and investment relations, amplifying joint investments, and escalating the trade exchange value between the involved parties.
Deep-rooted ties
Al Owais extended a warm welcome to the visiting delegation, underscoring the deep-rooted ties and fraternal relations that unite the UAE and Iraq. He further emphasised the flourishing economic and trade partnerships that link Iraq with the GCC countries, specifically the UAE and the Emirate of Sharjah.
Acknowledging Iraq's status as a vital trade partner of the UAE, the Gulf-Iraq Business Forum aims to capitalise on the existing strong ties and harness their potential for broader economic growth. It also seeks to contribute significantly to the development of economic, trade, and investment collaboration between the participating nations.
Al Owais reaffirmed the SCCI's commitment to ensuring the success of the forum, fostering enhanced economic cooperation with Iraq, and working cohesively to elevate trade and investment relations to new heights that align with the aspirations of both nations.
The Gulf-Iraq Business Forum promises to attract distinguished officials and businessmen from GCC countries and Iraq. The event's agenda features a series of panel discussions focusing on critical topics such as food security, agriculture, financial and banking services, investment, energy production, infrastructure development, healthcare, youth empowerment, higher education and vocational training.-- TradeArabia News Service