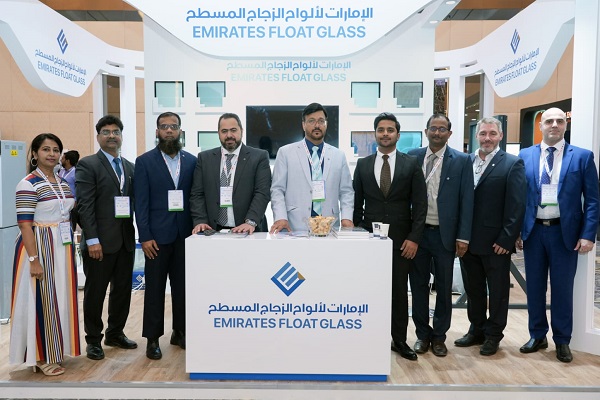 Emirates Float Glass (EFG), a wholly-owned subsidiary of Dubai Investments and a dominant player in the region for float glass and reflective glass in architectural applications, is highlighting its distinction as the sole producer of Double Silver Coated Glass in the UAE, supporting the creation of sustainable and renewable energy.
With an annual production capacity of 200,000 tonne of float glass and 2.5 million sq m of high-performance double silver low emissivity reflective glass, EFG is the only float glass manufacturer with the ICV certification done in-line with the "Make It in Emirates".
EFG said it remains committed to innovation, sustainability, and industry collaboration as a strategic partner in the first Global Glass Show 2023 which opened today (September 6) in Abu Dhabi, thus reflecting the company's dedication to pushing the boundaries of innovation.
Speaking at the panel discussion focussed on leveraging industrial and international collaborations for sectoral growth at the Global Glass Show 2023, Saleem Raza, General Manager, said: "EFG's expanded line of glass products cater to a wider segment of projects across the UAE and internationally. The Double Silver Coated Glass exclusively manufactured at EFG helps in reducing the energy required by showcasing its commitment to contributing to a greener future for the UAE."
"As the architectural landscape evolves, the demand for visually distinctive and environmentally conscious designs continues to rise and EFG manufacturers both online and offline glass allowing to better serve the architectural, automotive, and energy sectors, among others, with innovative and high-quality glass solutions," he noted.
"With a unique ability to create an illusion of expanded space by extending the visual boundaries of interiors and outdoor spaces offering a sense of openness and grandeur that transcends physical constraints, is the Company's reflective line-up of glass solutions," explained Raza.
"This innovative product not only offers energy savings by minimizing heat transmission but also contributes to the aesthetics of buildings. The reflective glass creates an illusion of more space, enhancing the visual appeal of architectural designs," he added.
As a renowned global leader in the float glass industry, EFG's participation at the Global Glass Show is aimed at capitalising from a platform for industry leaders to exchange ideas, showcase innovations, and foster collaboration.
The company's presence at the event underscores its commitment to pushing the envelope in the glass manufacturing sector and contributing to the evolution of the industry on a global scale.