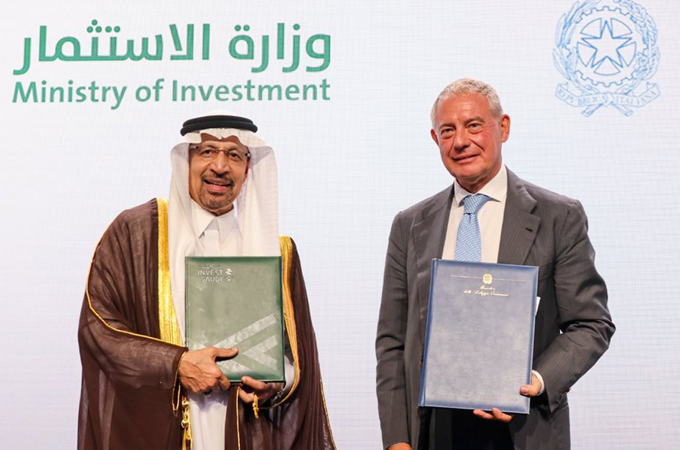 The Italian-Saudi Investment Forum, which brought together policy makers, business leaders and innovators from both countries in Milan, concluded 21 memoranda of understanding (MoUs) and investment agreements.
These agreements covered sectors including clean energy, real estate, health, waste management, technology and manufacturing.
The agreements included:
* An MoU in support of direct investment between the Ministry of Investment Saudi Arabia and the Ministry of Enterprises and Made In Italy.
* An MoU in healthcare between GKSD Investment Holding Group, Ministry of Investment Saudi Arabia and King Saud University Medical City to set up one or multiple entities in the Kingdom.
* An MoU in the energy sector between A2A and ACWA Power, to collaborate in green hydrogen projects across the Middle East and North Africa.
* An MoU in the energy sector between Italmatch Chemicals and ACWA Power, to explore a collaboration into the supply of technology.
* An agreement in the real estate sector between Cipriani Group, and Alkholi Holding Company, to develop Casa Cipriani in Riyadh.
* An MoU in the manufacturing sector between Continuus-Properzi and Bahra Electric as part of a project to localize the manufacture of copper and aluminum rods in Saudi Arabia.
The Italian – Saudi Investment Forum also featured presentations from Italy's Ministry of Foreign Affairs and International Cooperation, Ministry of Enterprises and Made in Italy, as well as Saudi Arabia's Ministry of Investment, Economic Cities and Special Zones Authority and National Centre for Privatization. The forum also included panel sessions spotlighting the investment opportunities in Clean Energy & Petrochemicals, Healthcare, Pharma & Life Sciences, Automotive & Advanced Manufacturing and Real Estate Development in Tourism and Hospitality.
Khalid Al-Falih, Minister of Investment of Saudi Arabia, said: "Italy and Saudi Arabia are strategic partners and I believe it is a key and long-lasting relationship that needs to be taken to the next level.
"Saudi Arabia is more than open for business. We are inviting all great Italian companies to make the Kingdom, their second home. We want them to see Saudi Arabia as a platform for accessing not only the Saudi market, which is growing at a high rate, a regional market that is healthy and growing, but a platform for reaching other markets around the world.
"I look forward to continuing today's discussions at the Saudi – EU Investment Forum on the 23rd October," he said.
Against the backdrop of weakening global economic growth, the Italian and Saudi relationship has put both countries in the economic fast lane. The value of bilateral non-oil trade between the two countries amounted to around SAR5.6bn (€1.4 billion) in 2022, offering strong potential for further growth. Italy is also among the top 20 countries investing in the Kingdom (by stock of FDI), with more than 150 Italian firms having a foreign investment licence in Saudi Arabia. Meanwhile, Italian investment is creating high-quality jobs for more than 6,000 Saudis, the statement said. - TradeArabia News Service