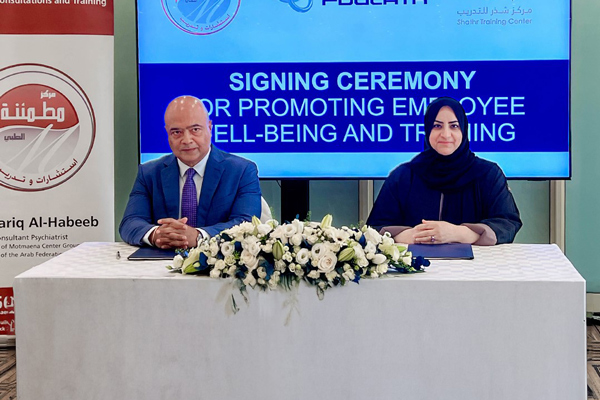 The signing ceremony
Foulath Holding, an industrial holding company with major steel investments, has announced a partnership with Motmaena Medical Centre to support the mental health and well-being of all employees.
Aligned with Foulath's core value 'CARE', this partnership aims to create a safe and positive work environment that prioritises employees and their diverse health needs.
Motmaena's mental health practitioners are available round-the-clock to provide Foulath employees with support for various psychological concerns including those who experience stress or burnout.
Safety and well being
Dilip George, Group CEO at Foulath Holding, said: "At Foulath, the safety and well-being of our employees remain at the heart of our organisation. Building on our commitment to 'CARE', we have established an agreement with Motmaena Medical Center that will enable our staff members to communicate openly about their mental health to a team of licensed professionals. We continue to invest in creating a healthy workplace environment by collaborating with reputable medical centres and institutions."
Additionally, Foulath has partnered with Motmaena's sister company, Shathr Training Center, to deliver UK-accredited qualifications from the National Open College Network (NOCN) in the field of Mental Health. This training, along with other initiatives, aims to foster a transparent and positive culture and cultivate a supportive workplace environment.
A group of Foulath's managers have successfully completed the NOCN Level 3 Award in First Aid for Mental Health. Through this qualification, they have gained an understanding of recognising signs and symptoms of various mental health conditions and providing support, reassurance and guidance to their colleagues. The managers are now equipped to fulfill their roles as Mental Health First Aiders within the organisation. Foulath has also signed an agreement to enroll their staff in the NOCN Level 2 Award in Mental Health Awareness. This training programme focuses on enhancing employees' understanding of stress and mental health issues while equipping them with basic resilience strategies.-- TradeArabia News Service