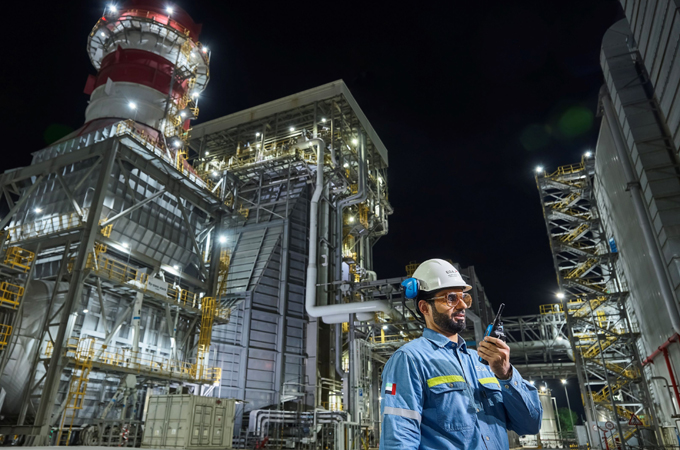 Emirates Global Aluminium (EGA), the biggest industrial company in the UAE outside oil and gas, on Thursday reported competitive financial performance for the aluminium sector in the first half of 2023 as market conditions moderated.
EGA's adjusted earnings before interest, tax, depreciation and amortisation (adjusted EBITDA) in H1 2023 was AED4.2 billion ($1.1 billion), compared to AED7.6 billion ($2.1 billion) in H1 2022 and AED4.8 billion ($1.3 billion) in H2 2022.
EGA's net profit was AED2 billion ($533 million), compared to AED5.9 billion ($1.6 billion) in H1 2022. Net profit in H2 2022 was AED1.5 billion ($409 million) as EGA recognised an impairment on Guinea Alumina Corporation of AED1.1 billion ($288 million).
EGA's aluminium segment adjusted EBITDA margin was 27 per cent, continuing to lead global industry peers. In the exceptional market conditions of the first half of 2022, EGA's adjusted EBITDA margin was 41 per cent. In H2 2022 it was 28 per cent, the company said.
EGA's average realised London Metal Exchange price for its aluminium was $2,359 per tonne compared to $3,063 per tonne during H1 2022 and $2,392 per tonne during H2 2022.
Abdulnasser Bin Kalban, Chief Executive Officer of Emirates Global Aluminium, said: "At EGA we aim to achieve performance that is competitive for our sector throughout the economic cycle. In the first half of 2023 that is what we did - delivering solid financial results even as market conditions moderated from the significant volatility of recent years, a testament to our resilience and strategic approach.
"I am confident we will continue to be competitive in the second half, as we benefit from our multi-year drive to maximise our revenue and minimise our costs, our focus on operational excellence, and our partnerships with our global customers."
Zouhir Regragui, Chief Financial Officer of Emirates Global Aluminium, said: "Our continuing performance, recurring cost savings from our multi-year Najah transformation programme, and strong cash generation has enabled us to further optimise our balance sheet for future growth. Over the longer term, we see considerable opportunities both to grow our primary production and to develop our business in recycling. We are well-placed within our sector to capitalise on these opportunities due to our track record in strategic expansion, our operational expertise, and our financial strength."
EGA made a corporate debt pre-payment of AED2.9 billion ($800 million) during the first half of 2023. This continues EGA's deleveraging strategy to strengthen the company's balance sheet for future growth. EGA has now pre-paid AED9.4 billion ($2.6 billion) in total since mid-2021. EGA's outstanding corporate debt is currently AED 14.4 billion ($3.9 billion), while GAC has outstanding project financing of AED 2.3 billion ($614 million) following scheduled repayments. EGA's net debt to adjusted EBITDA ratio was 1.6x at the end of June 2023.
EGA's production at each step of the aluminium value chain was either in line with or slightly ahead of production in the first half of 2022, but lower than the record performance in H2 2022 due to seasonality and a planned maintenance shutdown.
Sales of cast metal increased by 1 per cent to 1.32 million tonnes, compared to 1.31 million tonnes in the first half of 2022. In H2 2022, EGA sold 1.41 million tonnes of cast metal. EGA supplied 383 customers around the world during the first half of 2023.
Sales of value-added products or 'premium aluminium' decreased 5 per cent to 1.02 million tonnes from 1.07 million tonnes in H1 2022 and 1.06 million tonnes in H2 2022. 'Premium aluminium' accounted for 77 per cent of total sales, compared to 82 per cent in H1 2022 and 75 per cent in H2 2022, amid lower demand for extrusion billets.
EGA focused on optimising EBITDA contribution from sales through opportunistic non-VAP metal sales into global markets at strong premiums while maintaining or growing relative market share in 'premium aluminium' in key markets and segments.
Metal sales to local customers increased to 148,000 tonnes, or 11 per cent of total sales, reflecting the relatively strong performance of the UAE economy. In H1 2022 local sales were 141,000 tonnes and in H2 2022 local sales were 127,000 tonnes.
Alumina production at Al Taweelah alumina refinery was in line with H1 2022 at 1.15 million tonnes, compared to 1.28 million in H2 2022. During the period, the plant was shut down for scheduled maintenance which was successfully completed. All alumina produced was supplied to EGA's smelters, meeting 45 per cent of the company's total alumina needs in the period.
In Guinea, bauxite exports increased 6 per cent compared to H1 2022 to 6.87 million tonnes. This was slightly lower than H2 2022, due to accelerated production towards the end of 2022 at Guinea Alumina Corporation to meet customer demand.
During the first half of 2023, EGA's GAC achieved the first certification in Guinea to the Aluminium Stewardship Initiative's Performance Standard, the global aluminium industry's internationally recognised standard for environmental and social performance and governance. Al Taweelah was certified in 2019, and Jebel Ali in 2021. Al Taweelah alumina refinery was certified after the end of the first half, meaning all EGA operational assets are certified.
EGA signed a major long-term alumina supply agreement with Alcoa during the first half of 2023. Over the life of the 8-year agreement, which commences in 2024, volume options will allow EGA to procure as much as 15.6 million metric tons of alumina from Western Australia. The supply agreement will make Alcoa EGA's largest third-party supplier of alumina.
EGA's Total Recordable Injury Frequency Rate during the first half of 2023 was 1.55 per million hours worked. There was one Lost Time Injury during the period, with the employee now fully recovered, it said. - TradeArabia News Service