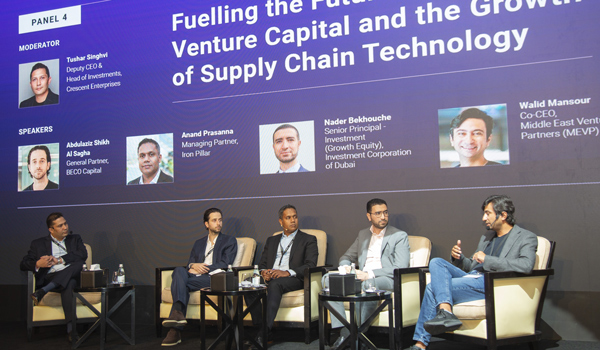 The first Supply Chain Tech Summit
Robotics, artificial intelligence and the opportunities modern technology and venture capital hold for the future of global supply chains were discussed at the first-ever Supply Chain Tech Summit in Dubai.
Organised by CE-Ventures, the corporate venture capital platform of Crescent Enterprises, a leading global, diversified business headquartered in the UAE, the summit's theme was 'Forging the Tech-Driven Future'. It was held at Grosvenor House, Dubai, on Wednesday, May 24, 2023.
Tushar Singhvi, Deputy CEO and Head of Investments at Crescent Enterprises, said: "The market size and growth of AI in the supply chain have been remarkable. According to recent reports, the potential economic value created by AI in the global supply chain is expected to reach $1.3 trillion over the next 20 years. The exponential growth of supply chain technology clearly demonstrates the paramount importance of the industry and the transformative role of technology in revolutionising it.
Cutting-edge solutions
"As global trade and logistics continue to evolve, businesses are increasingly relying on cutting-edge solutions to optimise operations, enhance efficiency, and drive profitability. And while this summit is global in nature, the Mena region is a fitting host for the Supply Chain Tech Summit, particularly the UAE, where the convergence of diverse industries and cutting-edge technology creates an ideal environment for fostering innovation and advancing supply chain solutions.
"The UAE's geographical advantage, coupled with visionary leadership, has propelled this nation to the forefront of global trade and commerce, becoming a magnet for multinational corporations and forward-thinking entrepreneurs seeking to leverage the immense opportunities on offer."
He continued: "By hosting the Supply Chain Tech Summit, CE-Ventures aims to showcase innovative tech-enabled solutions, foster collaborations, and provide a platform for industry leaders, startups, and investors to exchange ideas and drive advancements in supply chain technology."
Unlocking the potential of robotics in supply chain
The keynote session, by Damion Shelton, CEO of Agility Robotics, a US-based company developing robots that work alongside people in warehouses, explored the transformative power of robotics and automation, with solutions needing to be human-centric and multi-purpose. His insights into the potential impact of robotics on the supply chain industry captivated the audience and set the tone for the subsequent panel discussions.
With regards to Agility Robotics' contribution to the field of supply chain tech, Damion said: "Our mission at Agility Robotics is to build robot partners that augment the human workforce. Our robot Digit is the first human-centric, multi-purpose robot made for logistics work. Digit is designed from the ground up to go where people go and do useful work safely in spaces designed for people, starting with bulk material handling within warehouses and distribution centres. We're thrilled to be a part of the CE-Ventures Supply Chain Tech Summit and to talk about the role of automation and AI in shaping the future of supply chain operations."
Navigating the opportunities of supply chain evolution
The first panel of the day focused on the challenges and opportunities facing legacy supply chain companies as they adapt to the changing operational and technological landscape. Moderated by Charupriya Chahal, Director of CE-Operates, Crescent Enterprises, the session hosted Abdulla Al Hashimi, Chief Operating Officer – Parks & Zones, DP World, Andrew Hoad, Chief Commercial Officer, Gulftainer, Paul J. Gallie, Portfolio Director, AP Moller Capital, and Gustavo Lacetera, Senior Engagement Manager, ALG Transport & Infrastructure, where each discussed their unique perspective that comes with a long-established presence in the supply chain industry, and insights on the key strategies and best practices for modernising and optimising legacy supply chains to meet the demands of the future. "It is truly an exciting time as we witness the digital revolution shaping the supply chain industry," said Andrew Hoad, Chief Commercial Officer at Gulftainer.
"Industries worldwide are embracing digitalisation, with companies evolving into IT-focused entities that offer unique products and services. At Gulftainer, we are fully committed to our digital business transformation strategy. We are thrilled to be part of this event, which epitomises the high intensity and dynamic environment necessary to propel our transformation process forward."
The transformative future
Discussions during the second panel of the day revolved around exploring the transformative technological future of the supply chain, and how emerging technologies, such as artificial intelligence (AI) and robotics, will impact and revolutionise the industry. Moderated by Karthee Madasamy, Founding Managing Partner, MFV Partners, the panel included Fadi Amoudi, Founder & CEO, IQ Fulfilment, Gaurav Biswas, Founder & CEO, Trukker, Nissrine Elqobai, Co-Founder, ENY Consulting, and Puneet Kumar, Head of Supply Chain & Logistics, Roche, who gave insights into the cutting-edge trends, tools, and practices that are shaping and disrupting the industry.
Discussing examples of what a supply chain tech-enabled business offers, Fadi Amoudi, Founder and CEO of IQ Fulfilment said: "We aim to empower businesses in the region by transforming their operations and enabling them to thrive in the e-commerce landscape. Our robotic automation solutions cater to a wide range of industries. With our advisory services, we guide businesses through their transformation journey. We are launching our new model which combines operational excellence and robotic transformation knowledge, delivering long-term solutions that adapt to evolving business needs."
The future of last-mile delivery
The third panel spoke of the critical role of technology in optimising last-mile delivery, the final and often considered the most important leg of the supply chain. Moderated by Kushal Shah, Managing Director, Corporate Venture Capital, e& Capital, the panellists, Ashish Jain, CFO, Careem, Nader Museitif, Chief Investment Officer, Lyve Global, Naveen Joseph, Co-Founder, iMile, and Rodrigue Nacouzi, CEO & Founder, Transcorp, delved into the latest innovations and best practices for streamlining last-mile delivery, and the key challenges and opportunities facing businesses as they seek to meet the growing demands of consumers for fast and reliable delivery.
Speaking on some of the challenges facing in last-mile logistics, Rodrigue Nacouzi, CEO & Founder, Transcorp said: "Logistics technologies alone can't address last mile challenges. Proper integration with AI and human intelligence, along with the adoption of machine learning, is essential for optimal performance. Developing algorithms and models based on historical data and trends is key to unlocking the technology's fullest potential."
VC and the growth of supply chain technology
The final panel focused on the increasing role of venture capital in the growth and evolution of supply chain technology. Moderated by Tushar Singhvi, panellists Abdulaziz Shikh Al Sagha, General Partner, BECO Capital, Anand Prasanna, Managing Partner, Iron Pillar, Nader Bekhouche, Senior Principal - Investment (Growth Equity), Investment Corporation of Dubai, and Walid Mansour, Co-CEO, Middle East Venture Partners (MEVP), shared their perspectives on the current state of the venture capital landscape in supply chain technology, and the challenges and opportunities facing startups and investors as they seek to navigate the rapidly-changing industry.
"The supply chain industry is experiencing a digital revolution with the influx of software applications, enabling its transformation," said Walid Mansour, Co-CEO of Middle East Venture Partners (MEVP). "We invest in companies that drive this shift, including software-as-a-service, AI, and Fintech applications. As the industry evolves, we anticipate a smarter, data-driven future, particularly in this region."-- TradeArabia News Service