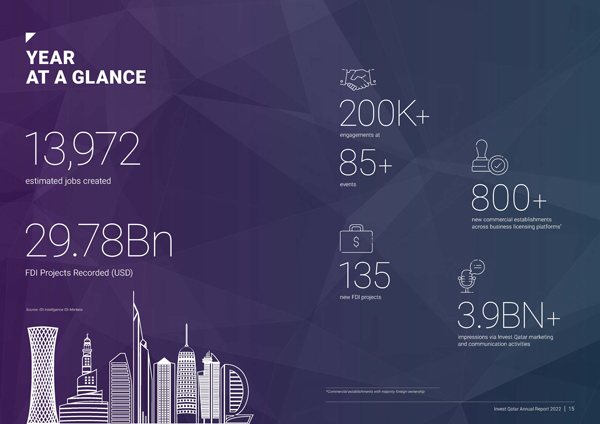 Qatar FDI infographic
Qatar's booming FDI ecosystem has seen $29.78 billion in capital expenditure (Capex) in 2022, when 135 FDI projects were recorded, creating 13,972 new jobs.
This represents almost 25 times the value of FDI projects from the year before and a doubling of jobs compared to 2021. The new jobs spanned across diverse sectors, including the oil and gas, software and IT, as well as business services and automotive OEM sectors, said the Investment Promotion Agency Qatar (IPA Qatar), which released its 2022 Annual Report.
The report further reveals that over 800 new foreign commercial establishments were initiated across the business licensing platforms.
Business hub
Leveraging the global spotlight on Qatar brought on by the country's hosting of the first FIFA World Cup in the region, IPA Qatar adopted a targeted multi-channel marketing approach to promote Qatar's attractiveness as a rapidly growing international business hub.
This led to a remarkable surge in engagements across key markets, accomplished through 85 impactful business events and productive meetings, involving investors, trade delegations, and other important stakeholders. IPA Qatar actively pursued its objective of showcasing lucrative investment prospects within the country.
The Agency also established and expanded key partnerships with organisations from the region and globally, including Iberdrola, Microsoft, Invest India and Business France, among others. Additionally, IPA Qatar released its first multilingual 'Guide to Investment'; three 'How-to' guides for setting up business, hiring and living in Qatar; as well as 12 in-depth sectoral studies, along with reports and policy papers, to bolster the local investment environment. In line with its efforts to enhance the investment landscape, IPA Qatar also launched the Invest Qatar Gateway platform, a digital resource that connects foreign investors with business opportunities and facilitates the growth of businesses in Qatar.
Multiple fronts
Sheikh Mohammed bin Hamad bin Qassim Al Abdullah Al-Thani, Minister of Commerce and Industry and Chairman of IPA Qatar, said: "Last year saw us forge ahead on multiple fronts and across sectors and geographies. It has demonstrated the resilience of the country's economy, established through a long-term strategy and decades of prudent investments. This year also offered invaluable opportunities for us to spotlight Qatar's unceasing potential as an investment destination of choice and to further our engagement with partners and stakeholders worldwide."
Sheikh Ali Alwaleed Al-Thani, CEO, IPA Qatar, commented: "2022 was a solid steppingstone for IPA Qatar, marked by substantial growth and deepened engagement with the international investment community, that saw us partner with numerous organisations in line with Qatar's economic diversification efforts. We continue to improve and develop our services to make the Invest Qatar brand an embodiment of excellence and a long-term partner for investors. Building on last year's successes, I am confident that we will support prospective investors into Qatar through a growing number of opportunities in 2023 and beyond."
Bright economic outlook
Qatar has been named number one on the "FDI Standout Watchlist 2023" by fDi Intelligence due to its robust economic and investment outlook for the year. Qatar's economy, driven by strong non-hydrocarbon sectors such as construction, trade and transportation.
Qatar's GDP is expanding rapidly, jumping from $125.12 billion in 2010 to $237.79 billion in 2022. This is expected to continue into 2023. The International Monetary Fund (IMF) predicts that Qatar's fiscal balance prospects will also remain strong in the coming years.
Similarly, the latest "Investment Monitor's FDI Report 2023: A Focus on the Middle East & Africa" shows that Qatar continues to strengthen its position as a top destination for foreign investment, with a remarkable six-fold increase in FDI. It is now ranked as the 5th largest inbound FDI market in the Middle East and Africa.
Despite global economic uncertainty in 2023, some regions are poised to see positive FDI growth. According to fDi Intelligence, the Mena region, along with India, is predicted to uphold its strong economic and investment activity throughout the current year.
Countries with resilient growth drivers, such as a strong digital infrastructure and an open market, are expected to see the most benefits from foreign direct investment.-- TradeArabia News Service