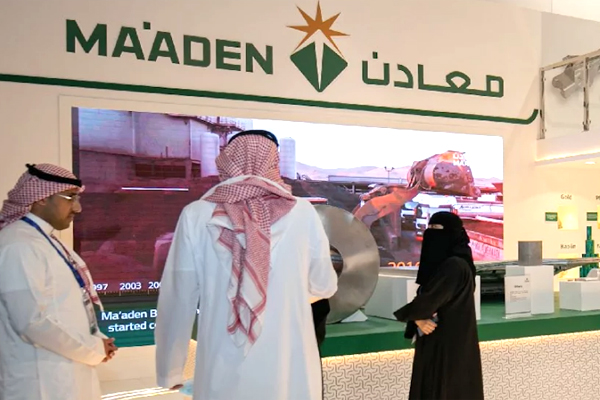 The Saudi Arabian Mining Company (Ma'aden) has signed a master clauses agreement to acquire a 9.9% stake in US mining technology company Ivanhoe Electric for $126.5 million.
As per the deal, the duo will be establishing a 50/50 exploration joint venture in the kingdom to contribute to conducting one of the largest exploration programs in the world, said a statement from Maaden.
This joint agreement will grant Ma'aden the rights to use Ivanhoe's Typhoon geophysical surveying technology, which will in turn accelerate the exploration of mineral sites in the Kingdom, valued at $1.3 trillion in minerals.
This step will contribute to strengthening the Saudi Vision 2030, which places mining as a third pillar of the Saudi economy. It is also considered a key supporter of Ma'aden's ambitious strategy, which aims to boost its growth by 10 folds by 2040 and to exploit the mineral resources in the Kingdom.
Ma'aden and Ivanhoe Electric will conduct exploration operations on an area estimated at 48,500 sq km of licensed sites in the Kingdom, an area larger than the size of Denmark. The exploration operations target to discover new minerals, such as copper, nickel, gold, silver, and other strategic minerals.
Ma'aden will be able to employ Typhoon technology, which is a revolution in geophysical surveys and 3D data processing (CGI).
As part of the agreement, Ma'aden will acquire approximately 10.2 million common shares in Ivanhoe Electric, representing 9.9% of the company, for $126.5 million with a top-up option to maintain its 9.9% ownership.
Out of this amount, $66 million will be allocated and invested to establish the exploration JV in the Kingdom as well as finance its exploration activities and programmes, it stated.
On the key stake acquisition, Ma'aden CEO Robert Wilt said: "We are working on one of the largest mining exploration programmes in the world in partnership with Ivanhoe Electric and this agreement is an important breakthrough to explore the potential mineral resources in the Kingdom."
"Therefore, we need to carry out survey and exploration activities in faster and smarter ways, and cover more ground to meet our long-term growth objectives, which will be enabled by the Typhoon technology," he added.
In addition to the acquisition of three new-generation Typhoon machines, Ma'aden said it will also be granted the right to appoint a candidate to the board of directors of Ivanhoe Electric.
However, the Saudi mining giant clarified that the establishment of the JV and the acquisition of 9.9% of the shares of Ivanhoe Electric will only be executed after certain conditions are met.
Wilt noted that Typhoon technology would contribute to accelerating Ma'aden exploration efforts by six times and reducing the risks associated with them, adding that it will lead the Kingdom to be a significant global hub for mining exploration.
"This is going to help put us on track to meet our 10x growth targets and fast track development of the kingdom's mineral riches," noted Wilt.
Ivanhoe Electric's Executive Chairman Robert Friedland expressed his excitement to finalize transaction terms with Ma'aden and begin the important work of minerals exploration in KSA, and work with Ma'aden on the largest exploration program to be conducted using the highly powerful and disruptive Typhoon geophysical surveying system.
Friedland indicated that through the Typhoon technology, the Computational Geosciences' machine-based learning software and the combined talents of the highly experienced team, would have all the tools necessary to conduct a transformational exploration program for electric and precious metals in the kingdom.-TradeArabia News Service