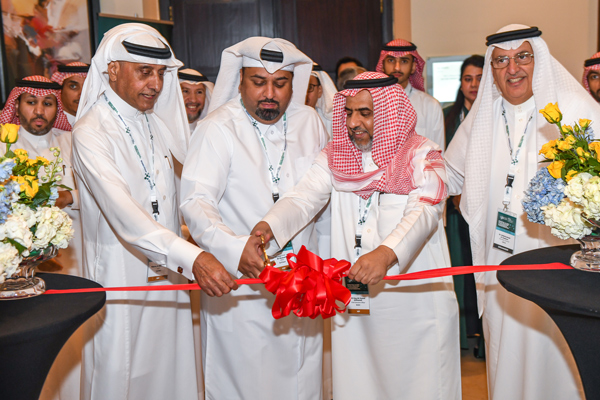 Opening the conference
The plastics economy of the future will be more circular than ever, agreed speakers at the Gulf Petrochemicals and Chemicals Association (GPCA) Plastics Conference.
In its 12th edition, the conference was held under the theme 'Investing in New Value Creation: A Sustainable Transformation' from May 14 to 15 at Al Khobar.
To win in the plastic economy, GCC countries must create global closed loop supply chains and material marketplaces. They must invest significantly to build world-scale recycling infrastructure, acquire circular or recycling assets and supply chain capabilities, and focus on customer driven sustainability initiatives.
Standards
Finally, regional economies must continue to proactively shape global and regional standards and policies in order to build a regulatory environment that supports the circular economy, speakers said.
GCC countries have the untapped potential to develop the plastic recycling industry – both mechanical and chemical recycling – and can reap significant socio-economic benefits, with plastic recycling estimated to create around 1,500 direct jobs and have a $650 million GDP impact per metric tonne.
Advanced recycling technologies are providing solutions that serve the dual objective of regulators and customers for greenhouse gas (GHG) abatement.
Setting the framework
Policies and advanced technologies will be at the heart of setting the framework for economics and successful circular business models, speakers agreed. Increased plastics "policymaking" and goal setting by stakeholders will help in the push towards a circular economy. At the same time, supporting policy and accelerated scaling of assets will be needed to drive change and address trade-offs to carbon emissions.
Setting the scene on day one was Khalid Sultan Al-Kuwari, CEO, Q-Chem and Vice-Chairman, Plastics Committee, GPCA, during the welcome address at the conference. His speech was followed by an inaugural address by Eng Ali bin Saeed Al-Ghamdi, CEO, National Centre for Environmental Compliance, titled 'The road ahead – Towards an implementable international instrument on plastic pollution'. A strategic panel featuring Harith Al-Qurtas, Chief Advisor, Ministry of Industry and Mineral Resources, Saudi Arabia, and Martyn Tickner, Chief Advisor, Circular Solutions, Alliance to End Plastic Waste, discussed the holistic approach needed to build global plastic governance.
Dr Abdulwahab Al-Sadoun, Secretary General, GPCA, commented: "The GCC region is currently among the least affected regions by plastic pollution in the world and with low levels of municipal plastic waste volume. Nevertheless, the region is home to significant hydrocarbon reserves and is a major producer and exporter of petrochemicals that are used to produce plastic. As such, the GCC countries have a responsibility to take action to address the negative implications of plastic waste and pollution, both domestically and globally.
Knowledge sharing
"The 12th GPCA Plastics Conference opened its doors in Saudi Arabia to facilitate knowledge sharing and meaningful discussion on how the region can advance action on plastic waste management. Moving to a circular economy will require an enormous effort, collaboration, infrastructure investment and advanced technology adoption, but most of all it will require a culture shift from our existing take-make-dispose approach to a more circular economic and business model that lays the foundations for a more sustainable future for our industry, our communities and the planet."
The conference hosted the CIRCUL-A-THON challenge launched by Sabic and Plug and Play to engage with creative and visionary designers in the quest to find solutions facing the future of circularity. The challenge focuses on industrial designs for real-life products having ease of reuse and recyclability of plastics throughout their life cycles.-- TradeArabia News Service