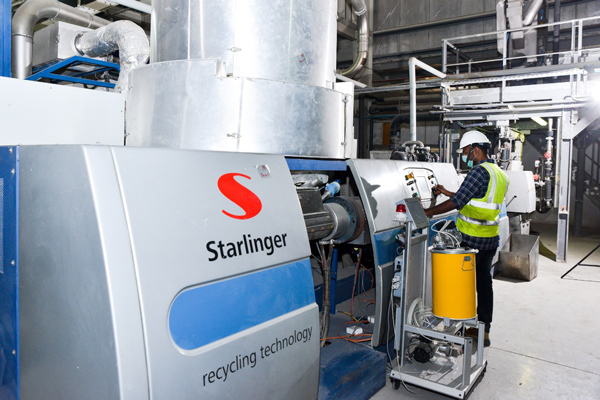 Horizon Technologies facility
Horizon Technologies, a member of Rebound Plastic Exchange, has been granted a Food Grade Certification of Conformity from the Ministry of Industry and Advanced Technology (MoIAT) for its recycled PET granules.
MoIAT currently regulates the use of recycled plastic water bottles as per the UAE Regulation for Control on Food Contact Material and in line with top public health and food safety standards, and is working on expanding further recyclable materials in the packaging industry.
Up to 900-1000 tonnes of used plastic bottles are recycled each month at the Fujairah facility of Horizon Technologies, accounting for 10% to 12% of all PET bottles used in the UAE. Rebound Plastic Exchange's support of Horizon Technologies is in line with its commitment to assisting Middle Eastern-based businesses that recycle and trade high-quality plastics, locally, regionally and globally.
Highest standards
Maryam Al Mansoori, General Manager, Rebound Plastic Exchange, said: "The MOIAT certification confirms that Horizon Technologies' recycled PET granules meet the highest standards of safety and quality for use in food packaging and other applications, being the first facility to receive this approval which was recently put in place earlier this year.
"It is a significant achievement that demonstrates the company's commitment to sustainability and innovation in the plastics industry. This is a significant step towards achieving a circular economy in the UAE, as it promotes the reduction of plastic waste and the creation of new products from recycled materials."
To successfully obtain a certificate of conformity, Horizon Technologies produced documents proving its adoption of an effective quality system and good manufacturing practices for materials that contact food. These include a report from an accredited lab in the UAE testifying that the recycled product has passed the safety test, a report indicating the compliance of the bottled water with health and safety requirements, including migration tests for packaging materials in accordance with the applicable technical regulations, and a risk assessment report for the quality and safety of recycled raw materials intended for use in bottling drinking water.
Sustainability
Rajnish Sinha, General Manager at Horizon Technologies, said: "This certification is a testament to Horizon Technologies' commitment to sustainability and responsible manufacturing practices. It also assures customers that our recycled PET granules are produced in an environmentally responsible manner, reducing the carbon footprint and promoting a circular economy. Our efforts towards sustainability will not only benefit the environment but also contribute to the UAE's journey to becoming a more sustainable and eco-friendly nation."
Horizon Technologies FZC has two business divisions – 'RPET Flakes' and 'food grade RPET pellets'. Production of non-food grade recycled PET flakes happens in a multi stage German plant (B+B) while further downstream Food Grade RPET pellets are produced in a 'state of art' European line (Starlinger, Austria) considered one of the best in the world. Horizon produces food-grade and non-food grade packaging raw materials from recovered PET bottles with a capacity to 'upcycle' more than a billion bottles per annum.-- TradeArabia News Service