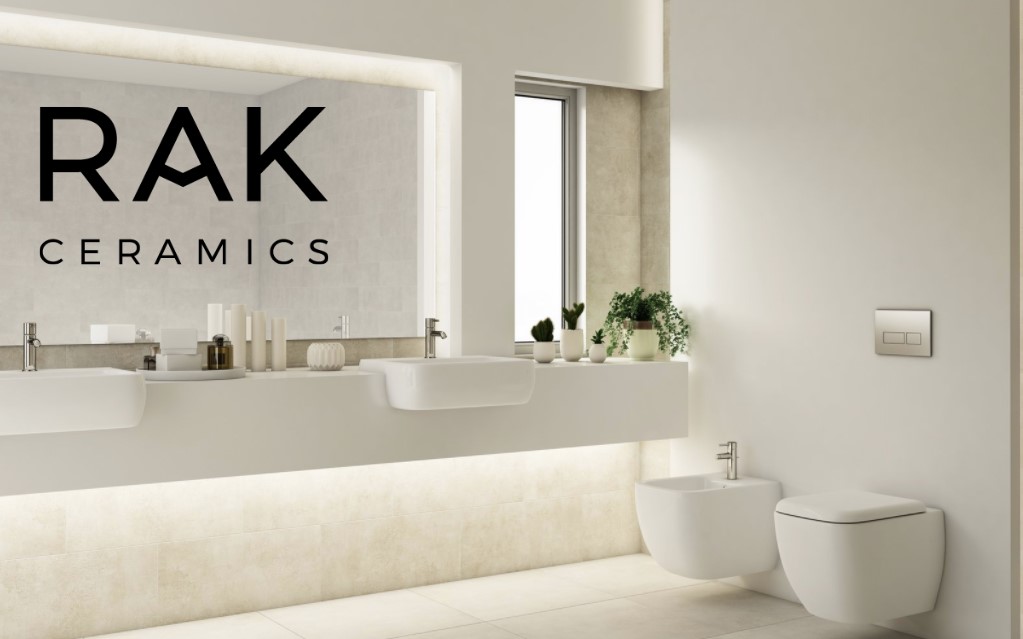 UAE-based RAK Ceramics, one of the largest ceramics' brands in the world, has delivered a strong set of results for the first quarter of 2023 despite continued economic challenges with a total revenue of AED882.4 million ($240.2 million), up 12.7% over last year and a total ebitda of AED157.1 million.
Announcing its financial results for the three-month period ended March 31, 2023, RAK Ceramics said its reported net profit increased by 14.9% year on year to AED 80.1 million for Q1 2023 due to higher revenue and gross profit margins.
Total gross profit margin for Q1 2023 increased to 37.9%, an increase of 90bps year-on-year driven by improved efficiencies.
The group's net debt increased by AED157.7 million to AED1.46 billion compared to December last year mainly due to payment of dividend of AED112 million and increase in working capital.
The tiles and sanitaryware continues to contribute over 74% of the total revenue mix followed by the Kludi Group consolidation which added AED 105.1m in Q1 2023.
Total gross profit margin for Q1 2023 increased to 37.9% compared to 37% in Q1 2022 driven by increase in tiles and tableware margin.
Commenting on the results, Group CEO Abdallah Massaad said: "RAK Ceramics announced its results for Q1 2023 which continues to be resilient despite the ongoing economic challenges weighing in namely due to higher interest rates, currency devaluation, recessionary fears in major markets and increased competition."
"Our performance in UAE market remains solid, allowing us to maintain a strong position as we encounter challenges in other major markets in the form of local competition, recessionary fears and currency devaluation. Despite these obstacles, our unwavering commitment lies in positioning ourselves as a trusted premium supplier and we will continue to actively expand our retail presence in the region," he stated.
According to him, RAK Ceramics continues to make progress on its expansion plans across its various markets.
UAE Expansion projects: Commercial production of smart tiles factory has commenced. This factory features smart tiles automation and IoT technologies to revolutionize tile manufacturing.
The tableware capacity expansion is still underway, with commercial production estimated for Q3 2023 for additional 10 million pieces.
Greenfield projects: Regarding our greenfield projects in Bangladesh and Saudi Arabia, we are actively pursuing the neseccary licenses and clearances..
RAK Ceramics said the tiles revenue witnesses steady growth of 0.9% year on year at AED 520.9 million driven by increase in selling price due to change in product mix.
Sanitaryware revenue witnesses a year on year decline of 16.6% at AED 129.2 million due to lower off-take in European markets given on-going economic challenges and disruption in Bangladesh business due to intermittent lower pressure in gas supply.
"However, we remain confident about our growth prospects in Europe and Bangladesh, given the declining inflation and reduction in freight rates," stated Massaad.
"We continue to face challenges due to rising natural gas prices, competition from regional players and increasing imports. However we have been successful in maintaining our margin by differentiated product strategy, which has allowed us to strengthen our position in the retail and projects segment," he added.
RAK Ceramics said its tableware business registered robust performance on the back of successful launch of new series of products and benefiting from the growing demand with revenue increase of 28.9% year on year at AED 97.6 million.
Faucets revenue continues to grow at AED 111.6 million in Q1 2023, out of which contribution from KLUDI Group consolidation is AED 105.1 million.
Further, RAK Ceramics is deeply committed towards sustainability and reducing overall environmental footprint.
Recent investments include efficient online mosaic production, environment-friendly processes for recovering and recycling tiles and an advanced scanning solution. The long-term investment includes waste utilization and energy consumption.
One of the largest ceramics' brands in the world, RAK Ceramics specialises in ceramic and gres porcelain wall and floor tiles, tableware, sanitaryware and faucets,
The company has the capacity to produce 118 million sq m of tiles, 5.7 million pieces of sanitaryware, 26 million pieces of porcelain tableware and 2.6 million pieces of faucets per year at its 23 state-of-the-art plants across the UAE, India, Bangladesh and Europe.
It is a publicly listed company on the Abu Dhabi Securities Exchange in the UAE and as a group has an annual turnover of $1 billion.-TradeArabia News Service