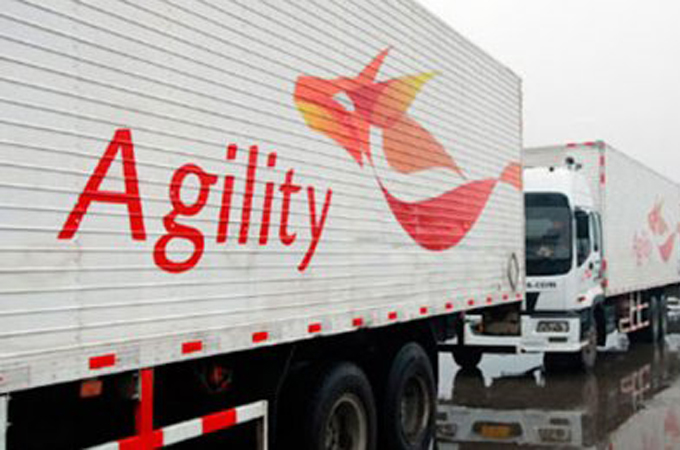 Agility, a long-term investor and operator in supply chain services, infrastructure, and innovation, has reported earnings of KD15.3 million (or 6 fils per share) for the first quarter of 2023, up 20% over the same period last year.
Announcing its financial results for the first three months ended March 31, 2023, Agility said its ebitda increased 78.1% to KD60.4 million, while its revenue grew 142.7% to KD 320.5 million and net revenue increased 178.6%.
The Kuwaiti group said it enjoys a healthy balance sheet with KD3.6 billion in assets. Its net debt stood at KD821.6 million as of March 31, 2023 (this excludes lease obligations). Reported operating cash flow was KD 39.8 million for the first quarter of 2023.
On a like-for-like basis - excluding the performance of Menzies Aviation and HG Storage International, which were acquired in August 2022 - Agility's ebitda increased 30% to KD44 million, and revenue grew 17%.
Agility Vice Chairman Tarek Sultan said: "Agility's first quarter results reflect the healthy growth in our controlled businesses. Two of our large 2022 acquisitions – Menzies and HG Storage International – contributed to Q1 earnings for the first time."
"On the investment side, equity markets improved in Q1 which was reflected in our investments. That said, we continue to look beyond short-term movement in equity markets, focusing instead on the strategic value, growth and returns that these investments can deliver for our shareholders over the long term," noted Sultan.
"Like all global businesses, we view ongoing inflation, high interest rates, currency volatility and other factors as reasons for continued caution about the near-term economic outlook. We are also closely watching the Kuwait land contracts issue," he stated.
"Even so, we are excited by the strategic transformation that has taken place in Agility since 2021. We believe we are positioned to grow and drive value for our shareholders, customers, employees and communities as we evolve further," he added.
On its controlled businesses' growth, Agility said in Q1, the combined ebitda surged to KD56.8 million on revenue of KD320.5 million, thus registering increases of 55% and 142.5%, respectively, over Q1 2022.
Performance of the company's controlled businesses is mainly due to three groups - Aviation Services; Fuel Logistics and the Other Controlled Businesses.
Menzies Aviation's revenue was KD154.4 million in Q1, while its ebitda rose to KD20.2 million. These Q1 results include the results of Menzies Aviation, acquired in Q3 last year, and the legacy National Aviation Services (NAS) business, now combined with Menzies.
Agility's aviation services results for Q1 2023 represent an 816.5% increase in revenue relative to Q1, when Agility was reporting solely on NAS's results. The combined entity's ebitda margin is 13.1% today. There was a broader underlying recovery in aviation volumes in Q1 2023 compared with Q1 2022.
In the first quarter of 2023, ground handling volumes and fueling volumes grew, offsetting declines in cargo volumes and revenue relative to Q1 2022.
The consolidation of Menzies and NAS has resulted in a larger global company with operations in more locations.
Fuel Logistics
On the Fuel Logistics sector, Agility said its Tristar's Q1 consolidated revenue grew 85.5% vs Q1 last year. Its ebitda increased 29.2% in Q1, driven mainly by growth in the Maritime and Fuel Farms segments. Tristar acquired a 51% ownership stake in HG Storage International (trading as Aquarius Energy) at the end of August 2022.
On its Other Controlled Businesses, Agility said it had reported an ebitda of KD23.3 million and revenue of KD82.2 million, increases of 10.5% and 17.5%, respectively, over Q1 2022.
Its main contributors are: Agility Logistics Parks (ALP) and United Projects for Aviation Services Company (UPAC), a co-investor in the $1.3 billion Reem Mall on Abu Dhabi's Reem Island as well as its customs-modernization company Global Clearinghouse Systems (GCS),
According to Sultan, Agility holds non-controlling minority stakes in a number of businesses, both listed and non-listed.
"In Q1 2023, the carrying value of those stakes was roughly KD1.6 billion inline with Q1 2022 value. We have witnessed a relative improvement in the global equity markets, which has been reflected in our investment values. However, as a long-term investor, Agility is focused on investing in sectors it believes will drive value and in companies with strong management that have showcased the ability to generate value," stated the top official.
"Given continued market uncertainty and the significance of the DSV stake in determining Agility's overall value, Agility has entered into multi-year, funded equity collar agreements with several banks to protect the value of the investment and shareholders' value," he added.-TradeArabia News Service