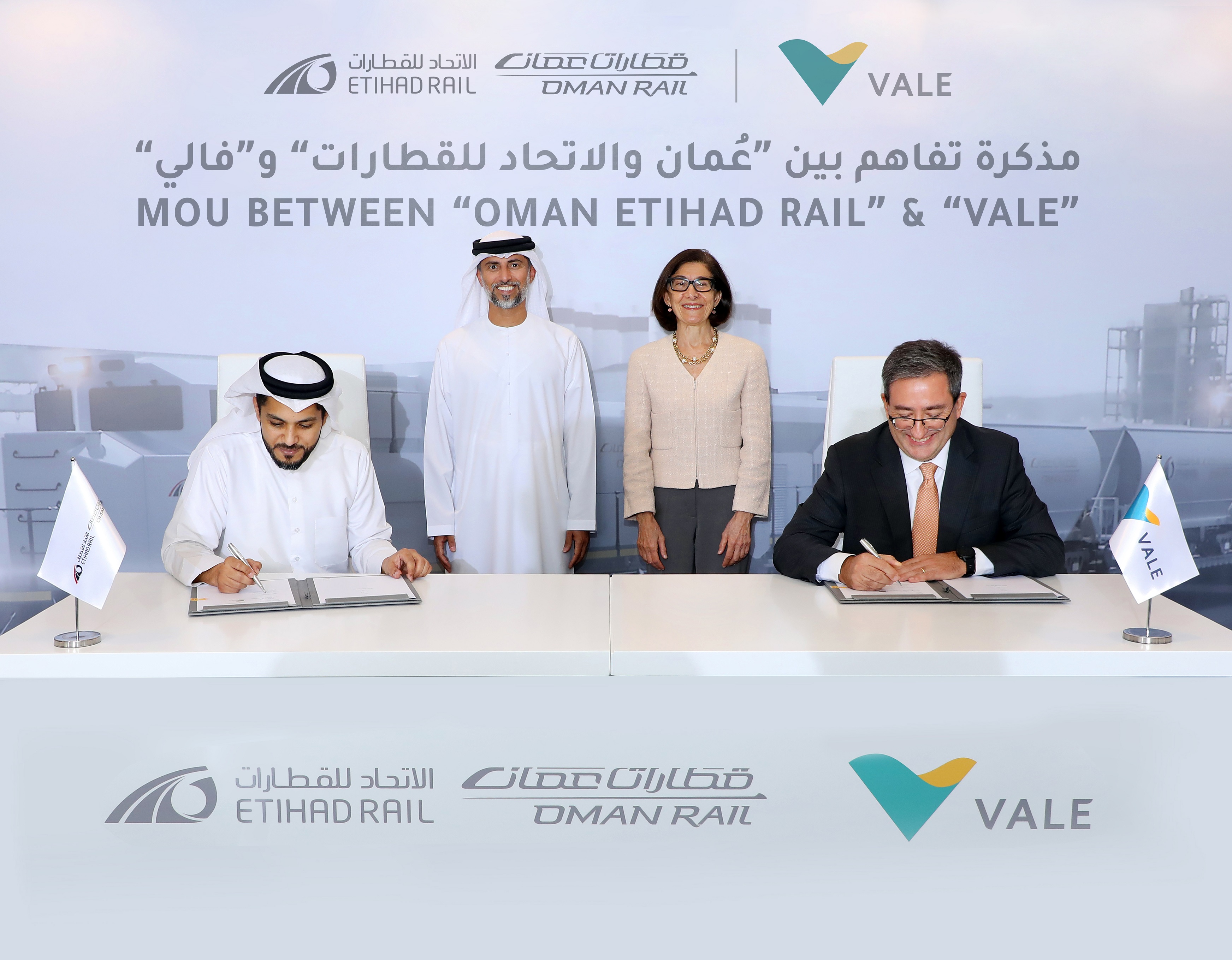 Oman and Etihad Rail Company, the developer and operator of the UAE-Oman Rail Network, has signed a MoU with Vale, one of the world's largest mining companies, to explore utilizing rail to transport iron ore and its derivatives between the sultanate and the emirates, linking its complex in Sohar Port and Freezone to its planned mega-industrial unit in the UAE.
This agreement reflects the logistical importance that the project will provide to major international players in several different sectors, as they stand to benefit significantly from the competitive advantages and economic incentives of the project.
Vale, headquartered in Brazil, is one of the largest mining companies globally, operating in five continents and a leading producer of iron ore.
Vale supported the development of Brazil's railway network, which spans over 2,000 kilometers, and has been operating in Sohar Port and Freezone for 12 years. Its industrial complex in Sohar Port, established in 2011, is the largest industrial investment in the sultanate.
Under the terms of the agreement, both parties will work to develop integrated logistics solutions that connect Vale's facility in Sohar Port and Freezone and transport the company's iron ore products and derivatives between the company's Sohar hub and various factories and distribution centers.
The MoU was signed by Ahmed Al Musawa Al Hashemi, CEO of the Oman and Etihad Rail Company, and Rogerio Nogueira, Director of Business Development at Vale, in the presence of Suhail bin Mohammed Faraj Faris Al Mazrouei, Minister of Energy and Infrastructure and Chairman of Oman and Etihad Rail Company, and Elaina Zugaib, Brazilian Ambassador to the UAE.
"The agreement is in line with our desire to continue to work on and establish strategic partnerships with major companies in UAE and Oman, supporting economic growth, continued development and investment in both countries," stated Al Mazrouei.
On the strategic deal, Al Hashemi said: "We are proud to partner with a leading international company like Vale, which has a long history and extensive global experience in the production of iron, utilizing rail as a primary means of transportation for its logistical operations."
"The MoU highlights the interest of potential users in utilizing the UAE-Oman Railway Network and benefiting from its fast, sustainable, reliable, and cost-effective services," he noted.
Nogueira said the agreement supports Vale's plans to develop industrial complexes in the UAE and Oman to produce low-carbon products for the steelmaking industry.
"Vale's partnership with Oman and Etihad Rail reinforces the regional logistics progress, which enables various economic and trade activities, and provides several benefits, including creating new job opportunities and providing high-quality transport solutions," he added.-TradeArabia News Service