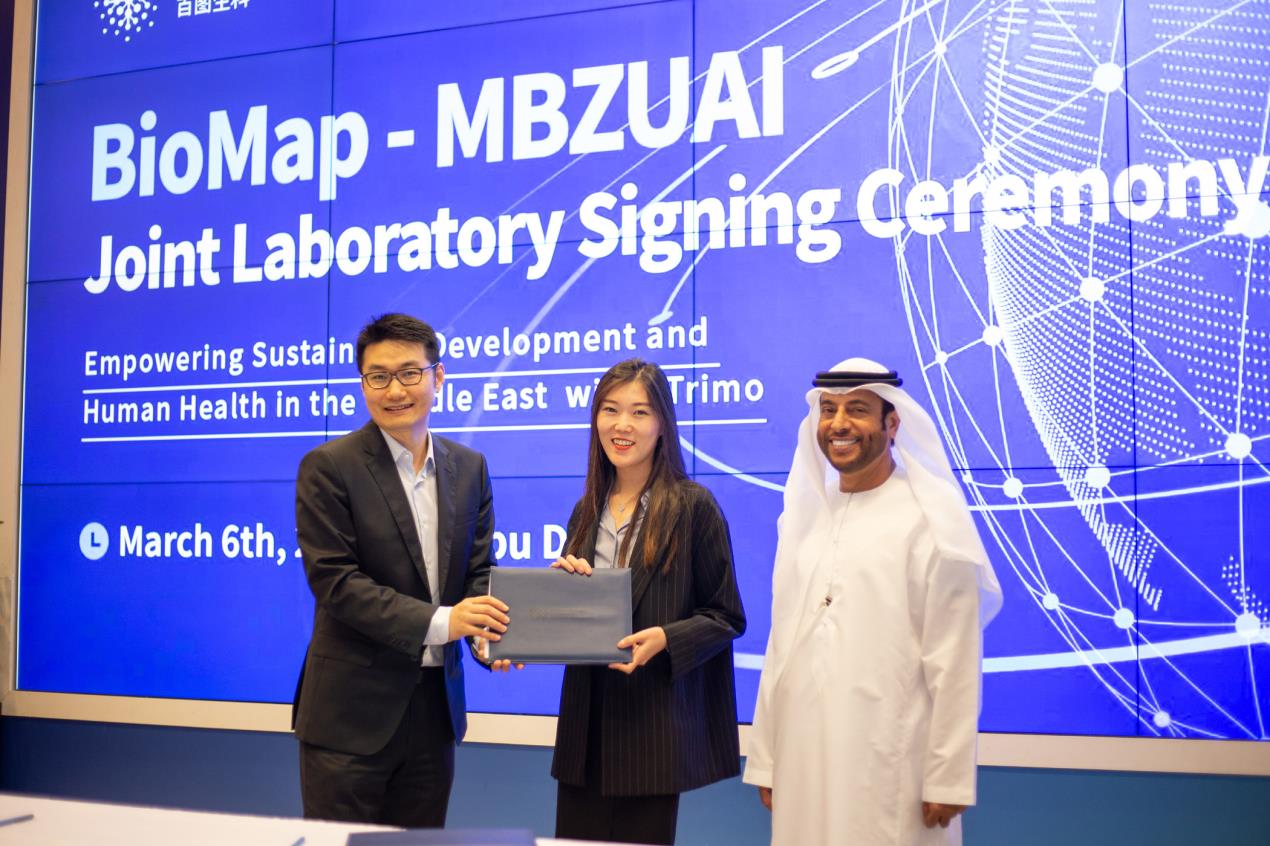 Mohamed bin Zayed University of Artificial Intelligence (MBZUAI) has signed a MoU with BioMap to establish a biocomputing innovation research laboratory within its campus at Masdar City.
The laboratory, which is the first of its kind in the Middle East, is being established to address critical life-science needs for the UAE, and for the region, said the company in a statement.
The two parties will focus on creating breakthroughs in AI generated proteins (AIGP) in line with the needs of the Middle East's most pressing needs in medical health, drug design, energy, and environmental protection.
Harnessing joint capabilities, the two parties aim to explore new technologies to advance protein generation, protein structure prediction, cell function prediction, and other foundational life science challenges.
The MoU was signed by Jiarun Qu, BioMap Vice President of Strategic Development; and Professor Kun Zhang, MBZUAI Deputy Department Chair of Machine Learning and Director of the Centre for Integrative Artificial Intelligence (CIAI).
It outlines how the two parties will collaborate on the application of AI protein generation capabilities to large-scale life science models to help promote sustainable development and improve human health in the Middle East.
"We are excited to partner with BioMap on this ground-breaking project," said Zhang. "We will collaborate to fast-track both energy sustainability solutions and the creation of new drugs that could help treat aging-associated diseases. The University is establishing itself in the AI and Healthcare space with faculty and students dedicated to research that is making drug design faster, more affordable and more sustainable," he stated.
"We are thrilled to be partnering with a world-class AI university like MBZUAI, and working alongside top local talents," stated Qu.
"By bringing together our experimental expertise with MBZUAI's cutting-edge AI technology and life science research, we can supercharge the application of AI large-scale models in the life science industry. And that means we can help improve human health and pave the way for a sustainable future," he noted.
"The joint laboratory will carry out research in two distinct directions: the de novo design of oil degradation enzymes, and in the identification of potential drug targets for the treatment of aging-associated and rare diseases," he added.
In recent years, scientists have explored the use of enzymes to efficiently degrade contaminants caused by oil. For example, alkanes as the major components of crude oils, are commonly found in oil-contaminated environments.
Although there are various kinds of alkane oxygenase extracted from microbes, those enzymes usually require a higher temperature to function with ideal catalytic activity, which is actually not the case in marine oil spills, oil and gas storage, and transportation.
The joint laboratory will explore the de novo design of new proteins that can improve alkane oxygenase catalytic function under lower temperature and without the help of coenzymes.
Such proteins could enhance the performance and broaden the applications of oil degradation enzymes and oil recovery enzymes by optimizing their catalytic efficiency under different conditions.
Alongside sustainability research, the two parties will also focus on scientific research on aging-associated diseases. According to the World Health Organisation, by 2050 the global population of people aged 60 years and older will double to 2.1 billion, and with it, the world will see a surge in aging-associated diseases.
The two parties will collaborate using large-scale AI models and multi-omics pre-training to accelerate the discovery of drug targets for aging-associated diseases, enabling the development of personalised treatments.-TradeArabia News Service