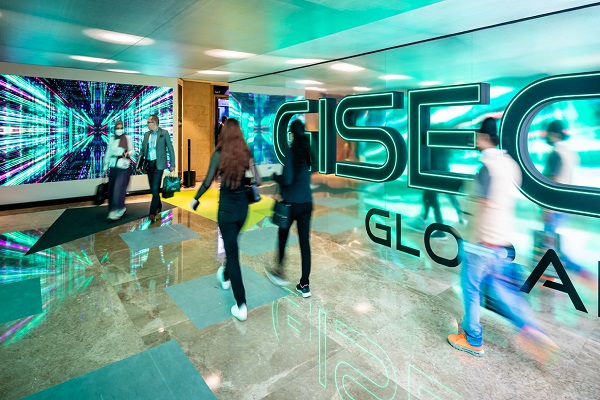 The 11th edition of GISEC Global, the region's largest cybersecurity event, kicks off on March 14 in Dubai, featuring a record 500-plus exhibiting brands from 53 countries across the globe, 300 leading InfoSec and cybersecurity speakers, and nearly 1,000 top ethical hackers who will address opportunities in a global cybersecurity market valued at $2 trillion by McKinsey & Company.
Tech titans Huawei, Microsoft, Cisco, Honeywell, and du will be out in full force at the annual three-day event, alongside headline ground-breaking infosec companies, including Spire Solutions, CPX, Crowdstrike, Mandiant, Pentera, Pvotal, Port53, Cloudfare, Edgio, Secureworks, Synack, Threatlocker, Votiro, Spidersilk, and Waterfall.
Organised by DWTC and hosted by the UAE Cybersecurity Council, GISEC Global 2023 is set against the backdrop of a burgeoning global digital economy, estimated to be $11.5 trillion in size, that faces an unprecedented level of cyber threats that are predicted to cost the world $10.5 trillion annually by 2025.
The Middle East's largest and most impactful cybersecurity event is poised to be an unparalleled meeting point for the global cybersecurity community, uniting the industry's leading brands and cybersecurity experts during three days of conference sessions, keynotes, product launches, partner seminars, interactive sessions and briefings.
Dr Mohamed Hamad Al Kuwaiti, the head of the UAE Cybersecurity Council, stressed the importance of collaboration to upskill talent and elevate cyber culture in a post-pandemic world.
"There's a renewed sense of urgency for collaboration because cybersecurity rules have changed since the pandemic and the rapid rise of threats in new digital ecosystems like the metaverse and quantum computing," said Dr Al Kuwaiti.
"To define the new cybersecurity paradigms, we are gathering an extraordinary league of cybersecurity leaders at GISEC Global. The UAE Cybersecurity Council fully supports GISEC's initiative of creating an inner circle for InfoSec leaders to discuss critical challenges and help build the cyber resilience of businesses and enterprises in the UAE and the world," he added.
GISEC Global 2023 will unveil for the first time the Hack-O-Sphere, a fully immersive arena featuring a series of thrilling live cyber competitions, free certified training sessions from SANS and EC Council, and an exclusive first-hand look at the UAE Cybersecurity Council's cutting-edge National Security Operations Centre.
More than 1,000 ethical hackers from across the globe and the local community are expected to attend, as they face off against, and find solutions to, real-world threats.
Headlining the main act is the inaugural CyTaka World Cyber Championship, delivered by Israeli-based CyTaka in partnership with the UAE Cybersecurity Council and CyberGate.
Cyber heroes from across the globe will flex their digital muscles for the opportunity to win $1 million in what will be the world's most valuable Capture the Flag (CTF) cyber challenge.
Dr Aloysius Cheang, Chief Security Officer at Huawei Middle East & Central Asia, said the fluidness of the digital economy calls for vigilance.
"As such, we take building insights into the cybersecurity industry and business environment very seriously, as these are critical inputs ensuring we are up-to-date in managing the cyber risk landscape," stated Dr Cheang.
"GISEC Global is the platform of choice for us to issue a call for action, bringing all the stakeholders together in a unified and proactive approach to cybersecurity, while also demonstrating the value Huawei brings, helping not only to safeguard the journey of digital transformation, but to be a beacon of light that will spotlight our customers' cybersecurity and privacy protection capabilities," he added.
The New Hack-O-Sphere gathered 1,000-plus ethical hackers in thrilling cyber competition series including $1 million CyTaka World Cyber Championship.
CyTaka's CEO and founder Doron Amir, said the anonymity of cyber-attacks means cross-border collaboration is critical:
"The cyber enemy is anonymous and can attack anyone," stated Amir. "Cyber criminals don't care where victims were born or what their nationality is. Initiatives such as the World Cyber Championship bring people together in competition, and share methodology of defence and attack, so we can understand the future, not the past, and prepare for a resilient and safer cyber future for all," he added.
Hack-O-Sphere will see the return of the Bug Bounty Challenge, already a Guinness World Record holder as the world's largest live bug bounty event, with more than 200 ethical hackers and bounty hunters conducting live penetration testing in a search for security bugs in real-life products.
Other competitions include the Cyber Maze by Port53, inviting hackers to navigate their way through a series of locked doors in a maze before reaching an end point; the UAE Ministry of Interior's Find the prize (FTP) competition for fresh graduates; the Cyberthon competition; and the Badge Hacking Zone by GISEC Global's Strategic Partner, du.
Running under the theme 'Connecting minds, boosting cyber resilience,' GISEC Global 2023 will take place with Dubai Electronic Security Center as Official Government Cyber Security Partner, and the Ministry of Interior, the Telecommunications and Digital Government Regulatory Authority (TDRA) and Dubai Police as Official Supporters. Over 35,000 visitors from 100 countries are expected to attend.
Trixie LohMirmand, Executive VP Events Management at DWTC, said: "The cybersecurity challenge facing organisations is formidable. By bringing together the world's leading cybersecurity experts and digital trailblazers, GISEC Global paves the way for regional organisations to demystify the complex cyber threat landscape and unearth real-world solutions from global experts to build cyber-resilient digital businesses."
"Our expanded presence and mandate demonstrate that we don't believe cyberspace is lost to cybercriminals. We believe that working together within broad ecosystems, with the help of the advanced solutions displayed at GISEC Global, organisations and nations can turn the tide on cybercriminals and emerge stronger and more resilient," he added.-TradeArabia News Service