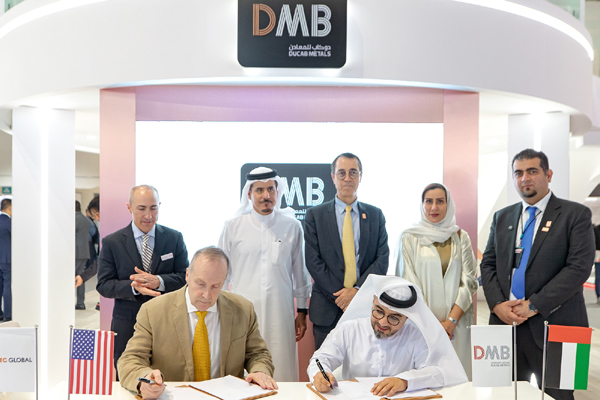 Ducab Metals Business (DMB), a key provider of both copper and aluminium solutions in the region, has signed an agreement with US-based leading manufacturer of efficient conductors CTC Global, enabling the organization to be the only manufacturer of CTC Global's high-capacity, energy-efficient ACCC Conductors in the UAE.
One of Ducab Group's major business units, DMB said the agreement enables it to be the only manufacturer of CTC Global's high-capacity, energy-efficient ACCC Conductors in the UAE using composite core imported from the US, in a bid to help expand the country's power grid and enhance its efficiency, capacity, and reliability, all the while reducing greenhouse gas emission.
The application of these advanced conductors will accelerate the integration of renewable generation into the national power system.
The agreement was signed at a special ceremony today (March 9) at Middle East Energy, which was attended by Mohamed Al Ahmedi, CEO of DMB; Charles Mellagui, CEO of Ducab Cables Business and Steve Jackman, CTC Global's Senior Vice President for Mena region and Frank Joseph, Principal Commercial Officer at the US Consulate General in Dubai.
"DMB is guided by a vision to be a leading global provider of innovative and high-value energy solutions, with sustainability always at the core of all of our activities," stated Al Ahmedi.
"We are committed to the UAE's efforts to tackle climate change and reduce carbon emissions, and to that end, offer our full support to the Net Zero by 2050 strategic initiative, especially in the lead-up to COP28. The initiative calls for deeper carbon emissions cut, and implementing CTC Global's energy-efficient conductors on a large scale is a significant step towards achieving that objective," he noted.
"Furthermore, the agreement we have signed with CTC Global not only expands our network of partners, but also allows us to manufacture their cutting-edge products here in the UAE, in line with our ongoing commitment and support for the 'Make it in the Emirates' initiative," he added.
On the deal, Jackman said: "For CTC Global, the Ducab unit is a trusted and reliable partner in the Middle East, and its industry leadership in the UAE will ensure the benefits of our high-performance conductors have the maximum reach possible."
"This partnership will accelerate the growth strategy of Ducab with high-efficiency and high-capacity ACCC Conductors. With the recognition by the UAE of the need of further electricity grid and water resource efficiency gains, we hope, with this partnership, to be able to contribute in some meaningful way towards their strategy as they deliver against their COP28 targets," he added.-TradeArabia News Service