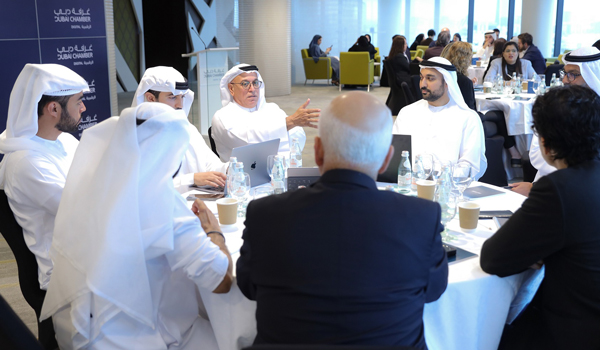 Bin Byat speaks at the workshop
With the start-up culture expanding in UAE, business incubators play a significant role in supporting small businesses and start-ups including creating an ideal environment for them, Venture Capitals (VC) and Incubators Workshop, heard.
VCs and incubators support the sector with funding, going the extra mile to help start-ups and SMEs grow, be profitable, and withstand competition from bigger market players, noted the workshop organised by the Dubai Chamber of Digital Economy, one of the three chambers operating under Dubai Chambers.
The event brought together leading entrepreneurs, VCs, and senior executives. The event is the third in the Chamber's interactive workshop series that address the role of the various economic sectors and digital industries in Dubai's digital economy.
Prominent role
Ahmad Bin Byat, Vice Chairman of Dubai Chamber of Digital Economy, noted: "The Chamber plays a prominent role in engaging members and key stakeholders from various digital sectors to ensure we identify challenges and opportunities together to promote an environment that is truly conducive to the growth of the digital economy and the role of advanced technology in society.
"Dubai and the UAE have taken bold, swift steps to deliver frameworks, legislation, and guidelines in many areas of the nascent digital economy. Our digital industry workshop series allow for two-way feedback, helping us ensure we are working on behalf of our business community, and enabling our members to voice their concerns, challenges and exciting plans for the future."
The workshop discussed the challenges faced by VC firms and incubators, as well as ways Dubai Chamber of Digital Economy and industry leaders can ensure that government policies, initiatives and strategies promote innovation and business friendliness in this vital sector.
Growth areas
Participants discussed growth areas, the best ways to help each other and maintain positive growth in the sector, with deeper focus on regulations, funding, talent, and infrastructure as integral parts of the VC and incubator ecosystem.
Bin Byat added: "Dubai is known for its support for entrepreneurs and SMEs in various areas of innovation, technology, and the digital economy. At Dubai Chamber of Digital Economy, we believe what this important segment of our business community needs is solid, reliable, and trustworthy funding. Delivering capital to new projects and providing business incubation is vital for the growth of the start-ups and SMEs which are key to Dubai's digital transformation agenda."
According to a study that was published recently by the Dubai Chamber of Digital Economy, Dubai hosts 39% of fast-growing start-ups in the Mena region. The emirate also attracted 57% of the total funding that these start-ups have received, which is estimated at $5.2 billion.-- TradeArabia News Service