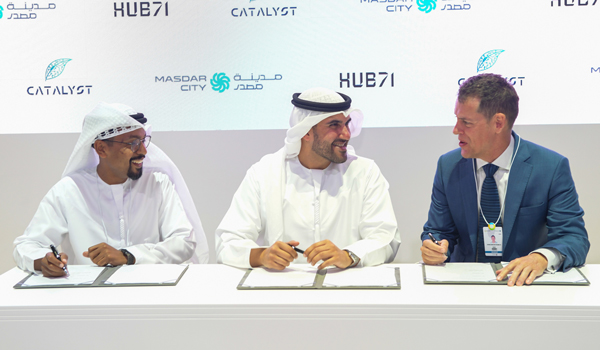 Masdar City and Hub71 officials
Masdar City, Abu Dhabi's flagship sustainable urban community and innovation hub, has boosted ties with Hub71, Abu Dhabi's global tech ecosystem, to promote clean tech and climate tech start-ups focused on sustainability.
Further to a memorandum of understanding (MoU) signed at Abu Dhabi Sustainability Week, the two entities will identify opportunities to collaborate in areas including mobility, food, health, and climate action.
They will also promote knowledge sharing by providing Hub71's existing start-ups access to Masdar City's corporate tenants and partners and explore incentives to help these companies establish permanent roots in the UAE. The agreement also names Hub71 Masdar City's official start-up ecosystem partner.
Vital component
"HH Sheikh Mohamed bin Zayed Al Nahyan, the president of the UAE, has just announced that 2023 will be the year of sustainability. Partnerships like this one will be a vital component of bringing this vision to life and demonstrate our shared commitment to advancing the UAE economy through ambitious, tech-focused enterprises," said Ahmed Baghoum, the acting CEO of Masdar City.
"As one of the world's most sustainable cities and a hub for innovation, research, and development, we share Hub71's vision for providing start-ups with an ideal environment to scale technologies that will have a sustainable impact globally. Together, we will work toward the UAE's mission to achieve net zero."
Hub71 start-ups will also benefit from The Catalyst, the region's first start-up accelerator focused on sustainability and clean tech, which is jointly owned by Masdar City and BP. The Catalyst and Hub71 will work together to develop a sector-focused accelerator program to enhance the benefits available to climate tech start-ups, including finance.
Scaling cleantech
"The joint effort from all three entities will provide start-ups a platform to scale their cleantech innovation, provide access to shareholder networks, and prepare them to showcase their capabilities at COP28," added Baghoum.
Hub71 has supported over 200 start-ups that have collectively raised more than $1 billion in funds since its launch in 2019. It recently onboarded another 20 startups from six countries operating in different strategic sectors.
"Our partnership with Masdar City will support the growth of start-ups in the climate tech and sustainability sectors in Abu Dhabi, building on the UAE capital's robust strategy and initiatives in these sectors. By providing operational, engagement and exposure opportunities, start-ups will be in a better position to deploy clean technologies that will contribute toward the national and global climate change agenda," said Ahmad Ali Alwan, the deputy CEO of Hub71.
"Green tech and climate tech investments are needed to address the environmental and climate challenges facing the world today. Following Egypt's COP27 and with COP28 taking place in the UAE later this year, the time is ripe for Mena's climate-tech start-ups to bloom. Our partnership with Hub71 and the success to date of The Catalyst show we're ready to make that happen," said Stephen Severance, the director of growth at Masdar City.-- TradeArabia News Service