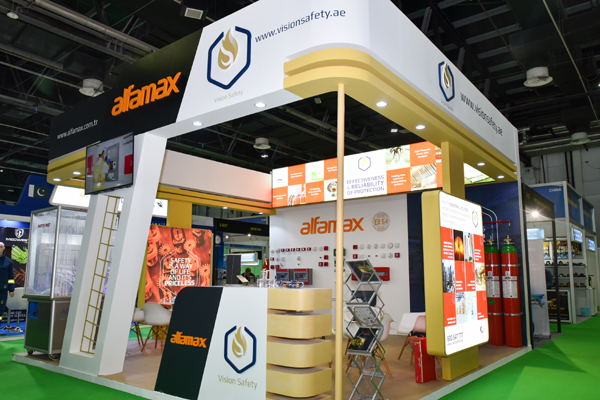 The Vision Safety stall at Intersec
Vision Safety, a wholly-owned Imdaad subsidiary specialising in sustainable, 360-degree fire detection and protection systems solutions, has set its sights on major regional fire alarm system market expansion in 2023.
Founded in 2007 alongside Imdaad's primary FM management division, Vision Safety combines international standards with local expertise to offer continuous protection to people and the environment across multiple industries, including the oil, gas, hospitality, and residential sectors.
Approved and licensed by Dubai Civil Defence as Grade 'A+' Contractors, Vision Safety serves industrial, utilities, and EPIC contractors with state-of-the-art project management and support services. Throughout over 15 years of operation, they have undertaken fire safety projects for some of the UAE's highest-profile properties.
Major agreement
Vision Safety commenced a major agreement with Alphamax, a leading Turkish fire safety solutions provider, to serve as the sole distributor of their products within the UAE. These products include both intelligent and conventional fire alarm systems, as well as emergency lighting and direction armatures.
Most recently, the company participated in the 24th edition of Intersec, an international exhibition for security, emergency services, safety, policing, and cybersecurity which was held at the Dubai World Trade Centre from January 17 to 19.
Commenting on the company's successful start to 2023, Imdaad Group's COO, Mahmood Rasheed said: "I can say with full confidence that this year will see Vision Safety achieve unprecedented market expansion that will take our fire safety systems into countless homes and businesses across the region. The overwhelming amount of interest in Vision Safety's products in services received during the Intersec exhibition, as well as our first distribution agreement of the year with Alphamax in Turkey, will be the first of many new breakthroughs and successes in the coming months."-- TradeArabia News Service