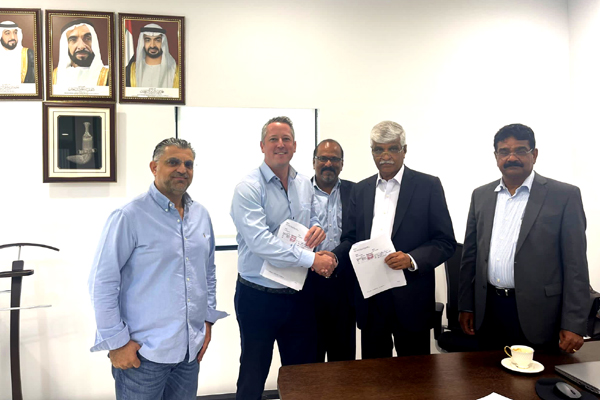 Tadano, one of the largest Japan-based manufacturers of cranes and aerial work platforms, said it has secured a significant order from Kuwaiti construction company NBTC for its Demag CC 8800-1 crawler crane that boasts a maximum capacity of 1600 tonne.
A major player in Kuwait's construction sector, NBTC owns more than 4,000 vehicles and construction equipment units, including 200 cranes and 46 multi axle liners, which puts the group in a perfect position to cover the requirements of the oil and gas sector.
The new crane will be used by NBTC Group's key unit KGA Group for its upcoming projects in Kuwait, said the company in a statement.
With a rated lifting capacity of 1,600 tonnes, the CC 8800-1 is definitely one of the most powerful lattice boom crawler cranes in the market, it stated.
The Kuwaiti construction company said it will be using the versatile large crane for all types of infrastructure and oil projects throughout the entire Middle East, for in-house projects as well as for external clients.
Moreover, with the crane, the NBTC Equipment Division expands its equipment leasing offer for the Middle East. And even though the CC 8800-1 is not KGA/NBTC's first Demag crane, the purchase still marks a first: It is the first brand new Demag to join the Kuwaiti company's fleet.
The people at NBTC are thoroughly familiar with the qualities of Demag cranes.
"We not only have numerous Demag all terrain cranes in our fleet, but also three lattice boom crawler cranes, two CC 3800-1 and a CC 2400-1, that have demonstrated their incredible reliability and powerful performance characteristics time and time again for years now," stated KG Abraham, the Chairman of the NBTC-owned KGA Group.
"And now NBTC has ordered a Demag CC 8800-1 crawler crane with its maximum capacity of 1600 t – a significant upgrade for the fleet with the crane's enormous load moment of close to 27,500 tonne-meters," noted Abraham.
"This performance level was one of the many reasons why we decided on the Demag CC 8800-1 in order to take care of an upcoming large-scale project, meaning that an extremely demanding work already awaits the crane and its debut," he added.
The CC 8800-1 is scheduled to be delivered to KGA Group in the second quarter of 2023, Tadano stated.-TradeArabia News Service