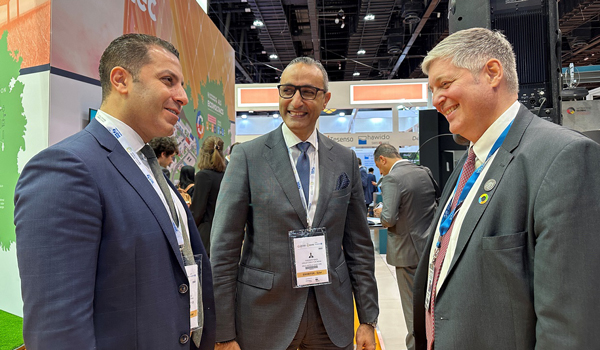 Wilo officials at WFES
Wilo Middle East, a leading German pumps and systems manufacturer, is raising awareness of sustainable solutions and advance energy efficiency through the use of innovative pumps and systems at the World Future Energy Summit.
In addition to addressing critical topics such as water and energy shortages and climate change, Yasser Nagi, Managing Director of Wilo Middle East, is also highlighting the company's advanced smart pump solutions designed to conserve energy and drive sustainability.
The 17th WFES is being held from January 16 to 18, 2023, at Abu Dhabi National Exhibition Centre (Adnec) in Abu Dhabi.
Cutting-edge building services
Wilo is showcasing its cutting-edge building services, as well as water management solutions and systems in order to underline their crucial role in developing a safe and sustainable water infrastructure, in light of the rising climate change issues.
Through this participation, the company also hopes to increase the visibility and awareness of Wilo's energy solutions in Abu Dhabi, build stronger partnerships, and broaden its service offerings to the public and private sectors.
Nagi said: "Climate change is an issue that the entire world is currently confronting, and we are conscious of how crucial it is to work together to find solutions, in order to tackle new challenges. WFES is an ideal venue for showcasing our latest technological developments, which are designed to address these escalating problems and elevate the global state of affairs. Additionally, taking part in such an event would enable us to form new relationships and explore more viable solutions that accelerate the pace of industrial growth in critical areas such as energy, water, waste, smart cities, and climate and environment. At Wilo, we reaffirm our commitment to advancing sustainable smart solutions in the sector, in order to promote sustainability in the region and assist in the fight against climate change."
Fouad Ahmed, Wilo's Regional Marketing and Government Affairs Manager Mena, said: "This is a crucial opportunity for us, as it is vital to connect the public and private sectors in order to address the challenges posed by the energy, water, and food shortages. Moreover, these efforts are made with a focus on larger issues like climate change, water scarcity, and food insecurity, all of which are of concern to most countries today."-- TradeArabia News Service