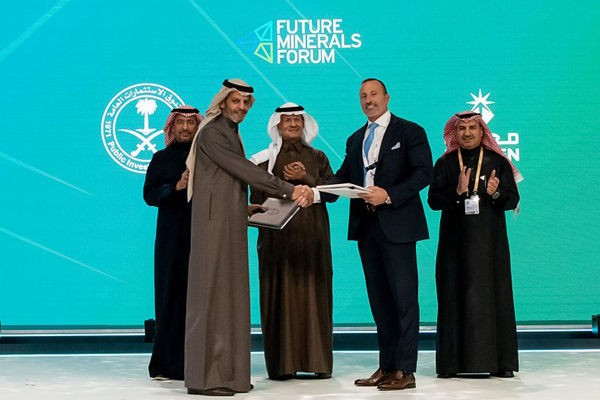 Saudi Arabia's sovereign wealth fund PIF (Public Investment Fund) has signed an agreement with Ma'aden, one of the world's fastest-growing mining companies, to establish a new company that aims to invest in mining assets globally.
The new firm will invest in iron ore, copper, nickel and lithium, as a non-operating partner with minority equity positions. It will also try to sign supply agreements with the companies and mines it invests in, said Maaden in a statement.
As per the deal, Ma'aden will own 51% and PIF will own 49% of the company. The company will be incorporated after obtaining approvals from the relevant authorities, and satisfying certain conditions of the JV agreement.
The agreement is in line with PIF's mission to build strategic economic partnerships to achieve sustainable returns and unlock the capabilities of promising sectors with significant long-term growth potential, in line with Vision 2030.
It also aligns with Ma'aden's 2040 Strategy to focus on upstream mining activities and gain exposure to future minerals as well as build partnerships with global mining companies.
The move is mainly aimed at securing strategic minerals that are essential for Saudi Arabia's industrial development as well as the resilience of global supply chains, said a senior official at the signining ceremony held on the sidelines of the Future Minerals Forum.
"PIF and Ma'aden combine extensive investment expertise with deep sector knowledge. The new company will significantly contribute to strengthening Saudi Arabia's strategic position as an important link in the global supply chain in line with PIF's strategy to further grow key industries," remarked Deputy Governor and Head of MENA Investments at PIF Yazeed Alhumied.
"As a catalyst of Vision 2030, PIF continues to drive the growth of new sectors, and companies while contributing to job creation, technology transfer and localizing knowledge to build a prosperous and sustainable economy in Saudi Arabia," noted Alhumied.
Ma'aden CEO Robert Wilt pointed out that this was a significant step for Ma'aden as it develops the mining sector in Saudi Arabia and positions the kingdom as a key ally in securing the metals of the future.
"The global energy transition relies on the strategic minerals needed for renewable energy and battery storage, and our focus on these will give us a foothold in the global commodity value chain, where major supply constraints are combined with growing demand," noted Wilt.
"We are proud to be playing a leading role in the economic diversification and growth of Saudi Arabia, building the talent pool and securing the future for the country, as we help deliver Vision 2030," he added.-TradeArabia News Service