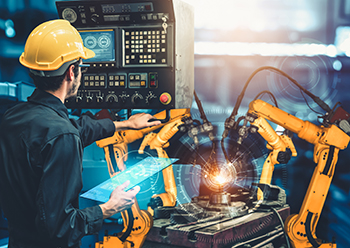 Strategically located and with a young and ambitious population, the Gulf region is embracing the digital technologies that could fuel a manufacturing boom, says a World Economic Forum report.
Industry 4.0 technologies are already being developed and deployed across Bahrain, Saudi Arabia, the UAE and beyond.
Technology is transforming the GCC's (Gulf Cooperation Council) manufacturing sector. With the adoption of advanced technologies, such as artificial intelligence and robotics — often referred to as "Industry 4.0" — the sector is becoming more interconnected, more automated and more data-driven than ever before, the report says.
This transformation doesn't only boost efficiency and productivity. It also has the power to drive the region's economic diversification efforts and make the region a competitive player in manufacturing, creating new job opportunities and reshaping the region's economic landscape, the report says.
Buy-in from governments is essential in this process, and can speed the development of the advanced manufacturing sector, it says.

A growing manufacturing hub
The Gulf's strategic location between Europe, Asia and Africa means it has become an increasingly important global hub for manufacturing.
Leading local firms like BFG International in Bahrain and the UAE's AquaChemie are becoming increasingly important global players and global companies like Mondelez and Honeywell are investing heavily in the region. As a result of this progress, Bahrain's manufacturing sector expanded by 4.9% in 2022, the UAE's manufacturing production increased by 8.7% and Saudi Arabia's manufacturing activity increased by 18.5% in December 2022 compared to the previous year.
Digital transformation and Industry 4.0 are set to turbocharge this growth, it said.

Digital transformation and Industry 4.0
Companies across the region are recognising the opportunities that digital transformation presents. Both consumers and businesses in the region are overwhelmingly receptive to technology and innovation: 80% of companies in the wider MENA region are adopting digital technologies, and investment in digital transformation is predicted to rise rapidly, reaching $298.2 billion by 2032 from $38.4 billion in 2022.
Large-scale industries such as aluminium, refining, petrochemicals and other advanced manufacturers have been among the first to embrace these new technologies.
BFG International has worked with the Bahrain Economic Development Board (Bahrain EDB) and Bahrain's Labour Fund Tamkeen on a regional first-of-its-kind Industry 4.0 project. Funded by Tamkeen, the project is developing real time digital twin of operations in factories and integrated and interpreted the data within a single AI-driven real time software optimization platform, offering complete transparency in performance and a real time road map to improvement. Examples like this are increasingly common across the region: in Saudi Arabia, the Raqtan Group worked with Modon, the government's industrial property authority, to introduce solutions using robotic process automation, AI and cloud software. This reduced design time and errors on its production line and doubled production output.
Mondelez, meanwhile, has adopted cloud-based technology from Schneider Electric to monitor energy, water and natural gas usage in real time at its "Factory of the Future" in Bahrain. This system allows the firm to compare sustainability targets and benchmark against other factories. It's also exploring the use of AI and machine learning to improve efficiency, including through image recognition and video analytics on the factory floor.

Government support for innovation and technology
Collaboration between the public and private sectors is key to driving digital transformation in the manufacturing sector. The United Arab Emirates' (UAE) Operation 300bn is one of several ambitious government plans in the region which aim to boost manufacturing in the region. The Emirati government hopes to increase the industrial sector's contribution to GDP from $36 billion to $82 billion by 2031 by promoting Industry 4.0 technologies and establishing the country as a global hub for future industries.
Saudi Arabia's Advanced Manufacturing Hub Strategy has identified more than 800 investment opportunities totalling $273 billion, all of which are aimed at diversifying the industrial sector. By 2035, Saudi Arabia aims to increase the number of factories from around 10,000 currently to 36,000, including 4,000 of which will be fully automated, the WEF report said.
In Bahrain, the government's Economic Recovery Plan and Industrial Sector Strategy aims to achieve a $6.6 billion GDP contribution from the industrial sector by 2026. The strategy focuses on embracing Industry 4.0 capabilities, investing in a circular carbon economy, encouraging digital and technological product investments and strengthening industrial infrastructure and local value chains.
It is, however, critical that local companies are not left behind. Many local manufacturing firms currently lack well-organised digital data, which is often manually recorded or scattered. BFG International is working to develop a system based on its Industry 4.0 collaboration with Tamkeen and Bahrain Economic Development Board that would allow any manufacturing facility to gather digital data and run optimization algorithms in real time. This would allow many more businesses to do everything from creating better schedules, streamlining their operations, making their machines work more efficiently, improve workforce productivity, and ultimately save costs. The opportunities for the whole sector are almost limitless, it said.

Building the future workforce
The world of work is changing rapidly. AI and machine learning specialists top the list of the fastest-growing jobs in the world. More than half the population across the wider MENA region are aged under 30, and governments and the private sector are now increasingly focused on creating high-skilled, high-paying jobs for the local workforce.
Governments in the region are helping manufacturers upskill their future workforces. The University of Bahrain offers a specialised Master's programme in Artificial Intelligence Systems, while the UAE University's Industry 4.0 District hosts labs that teach students about Industry 4.0, providing training, research opportunities, industrial applications and more.
Collaboration between the public and private sectors is critical for supporting these efforts. As part of BFG International's Industry 4.0 project, the focus was not only on automating factory processes but on providing training to local talent to equip them for the future. Tamkeen provided a grant for hiring and training more than 30 Bahraini engineers over the 5-year programme.
The GCC has all the ingredients needed to become a global hub for manufacturing innovation: a young, tech-savvy population, a strategic location and a growing appetite for technological adoption. By continuing to invest in digital transformation and upskilling its workforce, the region can create a manufacturing sector that is both competitive and sustainable. Governments, businesses and educational institutions all have a role to play in ensuring that the GCC's manufacturing sector is prepared for the future, the report said.