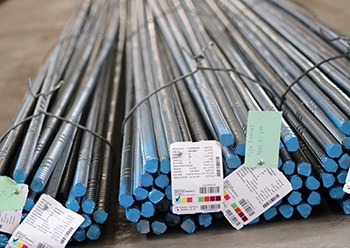 Leading Steel and Building Materials manufacturer, Emirates Steel Arkan, is making significant strides in rolling out its innovative ES600 sustainable steel product to the UAE construction market as it gears up to promote and increase usage in the UAE.
Currently, ES600 has been adopted as the steel rebar of choice in the construction of Sobha Reality and Al Habtoor Group's latest projects in Dubai.
Al Habtoor Group's 'Al Habtoor Tower' is set to be the world's largest residential tower and will consist of an 81-storey highrise. It will be the first in the GCC and MENA region to be constructed without foundations and will be directly built on the piling made up of ES600 rebars and sections that will penetrate existing three basement levels, reaching 85m deep.
Sobha Crest by Sobha Realty on the other hand consists of four mid- to high-rise towers with the tallest being 47 storeys high and has utilised ES600 steel.
Eng Saeed Al Ghafri, CEO of Emirates Steel, an Emirates Steel Arkan company, said: "The incorporation of ES600 within two prominent projects in Dubai signifies a momentous stride towards the realization of sustainable construction methodologies in one of the world's most thriving real estate markets. The rebar's superior characteristics, reduced carbon footprint and innovative design, position ES600 as the preferred choice for low-carbon construction endeavors for the industry, supporting the efforts to reduce emissions and contribute to a greener tomorrow."
Al Ghafri added: "We are actively involved in continuous research and development initiatives to explore new materials and processes that have even lower carbon emissions, aiming to continuously improve the sustainability of our products and help our customers realize their goals."
ES600 is an innovative, high-strength rebar, that is cost and time effective, results in reduced rebar consumption, alleviated rebar congestion, less logistics expenses, is space-efficient, and improves structural aesthetics and enhances saleable floor space area for the developer. This unique steel holds certifications from local and international certifying authorities, underscoring its adherence to the highest standards of performance and sustainability.
Mohammed Khalaf Al Habtoor, CEO & Vice Chairman of AL Habtoor Group, said: "Al Habtoor Tower will not only be the world's largest structure, but will also be the most innovative and sustainable landmark complex in Dubai. Utilizing a pioneering construction method using ES600 has enabled us to directly build on the piling, thanks to its strength, using less steel than traditional rebar, and serving as a new best practice for contractors in the UAE and the region to consider in their future projects."
Emirates Steel Arkan is leveraging innovation across its products and reinforcing its global sustainability stature with innovative low-carbon products that aim to reduce steel consumption in construction. The ES600 steel, the first of many in the pipeline, can reduce steel consumption by 18-24% depending on the scale of the project. The Group continues to broaden its product range with higher-value and higher-margin products that capitalize on advanced technology, low-emission processes, and industry-pioneering carbon capture.