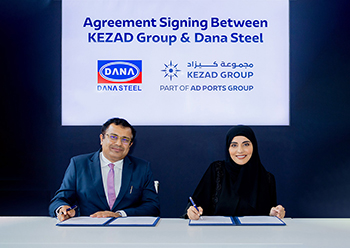 Officials sign the Dana Steel agreement
Since its launch last year by AD Ports Group, Kezad Group has been a driver of Abu Dhabi's industrial strategy, by providing a flexible platform for local and international companies targeting the Middle East.
The launch of Kezad marked a new phase of evolution towards strengthening Abu Dhabi's position as the region's leading industrial and manufacturing destination.
The move follows the integration of Khalifa Industrial Zone Abu Dhabi (Kizad) and Specialised Economic Zones (ZonesCorp) into the newly formed Kezad Group (Khalifa Economic Zones Abu Dhabi Group), which comprises 12 economic zones with a total area of 550 sq km, including 100 sq km designated as free zones.
In addition, it has more than 300,000 sq m of pre-built warehouse facilities and is home to more than 40 staff accommodation complexes with a capacity of over 450,000 beds (located in Abu Dhabi, Al Ain and Al Dhafra Region), including the 77,000 beds operated by Kezad Group.
Today, Kezad Group hosts more than 1,750 clients from 17 industrial and economic sectors catering to a range of key industries.
It aims to attract new companies that will help increase the size of the emirate's manufacturing sector, with a goal of reaching a value of AED172 billion by 2031.
Kezad Group is solely responsible for managing the process of planning, developing, operating, regulating, and promoting combined assets (Kizad, ZonesCorp and Kizad Communities) under the AD Ports Group's Economic Cities & Free Zones portfolio, that makes up 55 percent of the UAE's industrial area.
Mohamed Al Khadar Al Ahmed, CEO of the Khalifa Economic Zones Abu Dhabi (Kezad) Group, stated in January that the economic cities and free zones of the Abu Dhabi Ports Group have helped achieve record results for the group in terms of leasing new land.
In the first half of 2022, the land leased by the group was estimated to total 3.9 sq km, underscoring the growing demand for integrated industrial and trade centres, especially in Abu Dhabi.
Al Ahmed noted that the AD Ports Group is keen to ensure the consistency of its long-term strategy for Abu Dhabi and the UAE, in general. It is keen to help make the emirate an international trade, industry and logistics centre.
Under this framework, Kezad was launched as one of the group's economic cities and free zones to provide a wide array of services and business models. It will enable companies to achieve growth, aligning with the UAE's leadership's vision and Abu Dhabi's industrial strategy, he added.
Kezad has over 1,750 companies in 17 sectors, which include pharmaceuticals, minerals, vehicles, plastics, construction materials, recycling, food, agricultural technology, retail, logistics, advanced technology, clean energy, life science, oil and gas and specialist chemicals, he added.
Increasing the number of companies will help expand job opportunities for UAE nationals and achieve the goal of Abu Dhabi's industrial strategy to create 13,600 job opportunities, he added.
"In line with the circular economy objectives set by the emirate's industrial strategy, economic and free zones aim to attract investment that will support sustainable manufacturing efforts in the textiles and packaging industries, among other areas," Al Ahmed said. The group has successfully created a competitive environment for global trade and logistics, as well as for the digital services and advanced infrastructure sectors.
Speaking about the group's role in ensuring food security, he stressed that the construction of Kezad's Abu Dhabi Food Hub is a collaboration between the Abu Dhabi Ports Group and the Ghassan Aboud Group, with the cooperation of Rungis, the largest wholesale fresh food market in the world.
Kezad has signed a number of agreements for the establishment of a diverse range of industrial projects in its zones in the past few months. They include:
* Emtelle, a leading global manufacturer of passive fibre-optic network solutions, and Kezad Group, have signed an agreement to build one of the world's largest facilities for the manufacture of fibre optic ducting and pre-connectorised solutions.
Emtelle will invest approximately $50million in three phases of manufacturing. The building, which will be located on a 48,000 sq m land plot, will be leased under a Build-to-Suit agreement with Kezad. The facility will provide Emtelle with the opportunity to expand its manufacturing capacity of microducting, bundledducting and pre-connectorised solutions for fibre-optic networks, turbocharging network deployment both in the region and worldwide from this hub in Abu Dhabi.
The agreement is the latest step in the expansion of Emtelle in the Middle East, following the acquisition and rebrand of AfriPipes Middle East in 2021.
Kezad has signed a preliminary agreement with Dana Steel, the flagship manufacturing unit of industrial conglomerate Dana Group, for the establishment of its first hot and cold rolling steel complex in Abu Dhabi.
Under the terms of the agreement, Dana Steel will invest to develop a 50,000 sq m facility in Kezad. The new complex will facilitate backward integration of the company's continuous galvanising and continuous colour coating lines and will have 500,000 metric tonnes rolling capacity. This approach will help boost Dana Steel's manufacturing capacity in the GCC by replacing imported raw materials, such as cold rolled full hard coils, with a new 'Made in UAE' supply.
Meanwhile, Kezad Group showcased the competitive advantage Abu Dhabi offers to researchers, manufacturers and distributors in the pharmaceuticals sector at Arab Health show.
As the premier economic zone for life sciences in the Middle East and North Africa, KEZAD already hosts many pharmaceutical manufacturers, life science businesses, laboratories, packing businesses and supporting services, including several leading organisations such as Hope Consortium, Adcan Pharma, Neopharma, Medisal, National Reference Laboratory, and Pharmatrade, including the G42, which announced the development of one of the largest vaccine production facilities in Kezad last year.