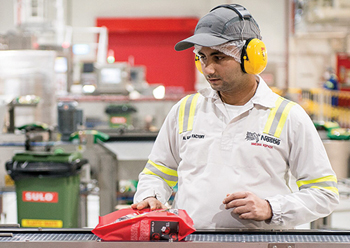 Schneider Electric's landmark project: Nestle Al Maha factory in Dubai
When Schneider Electric, a global specialist in energy management and automation, says it leads by example on the sustainability front to help its customers understand their carbon footprint, it literally means it.
The company, which operates in 100 countries 'with the Gulf region being a priority and growth region,' says its role goes beyond empowering its customers to effectively manage their carbon emissions.
"We take ownership and ensure adherence to best practices in sustainability at Schneider Electric," said Ayman Ismail, Vice President of Industry & Business Development, Schneider Electric Gulf Cluster.
For instance, the company has established a Smart Distribution Center in Jebel Ali in the UAE, which is well on its way to becoming one of the country's most sustainable distribution hubs.
"We have achieved this through the implementation of key circular economy initiatives such as being designated as a 'zero-plastic' site, electric-powered forklifts, and, most importantly, its advanced solar rooftop solution, which covers up to 90 per cent of the site's energy needs," he told Gulf Industry.
Prospects for Gulf
In fact, Schneider Electric sees prospects for a greater role in the Gulf's energy management plans.
"The Gulf is a region of opportunity for Schneider Electric," Ismail said. "As a global specialist in energy management and automation, we serve customers in over 100 countries, with the Gulf region being a priority and growth region for us," he added.
The company said it helps its partners and customers in this region to manage their energy and process in ways that are safe, reliable, efficient, and sustainable.
"From the simplest of switches to complex operational systems, our technology, software, and services improve the way our customers manage and automate their operations. Our connected technologies are reshaping industries, transforming cities, and enriching lives," he said.
Manufacturing expertise
Schneider's expertise, said Ismail, lies in integrating smart manufacturing and sustainability across all industry verticals. "We have also seen great success in cultivating a collective 'Industries of the Future' mindset, one that is energy-efficient, adaptive, and resilient," he said.
Through such mindset, the company has embraced the next level of industrial automation and is placing its people at the forefront of this culture shift.
"Through our work in the manufacturing sector in the Gulf, we have leveraged emerging technologies and solutions in advanced manufacturing to help our customers and partners in exploring untapped opportunities across industries, enabling both profitability and sustainability to co-exist," he added.
Schneider Electric's role in the Gulf region's manufacturing sector has been widespread and impactful with the company having completed a number of projects within the sector.
Over the past few years, the company has completed a number of projects within the manufacturing sector. One of its landmark projects for Dubai was the Nestlé Al Maha factory in Dubai.
"We equipped the factory with our Internet-of-Things (IoT) and cloud-based technologies with a view to help the factory improve asset performance and optimise electricity usage," commented Ismail.
"Our solutions have been instrumental for Nestlé's operations team to monitor power management, electrical loads and temperature settings. Our EcoStruxure technology evaluates data in real time from the plant's electrical equipment and uses cloud-based predictive analytics to identify and resolve potential faults," he added.
The company recorded similar milestones in Bahrain through its pioneering role in the Mondelēz Bahrain Biscuits W.L.L. project. Additionally, its cloud-based technology helped the company efficiently monitor and reduce its use of electricity, water, and natural gas at its Bahrain factory.
"Here as well, our EcoStruxure Resource Advisor helped the operations team measure and manage energy and sustainability initiatives across the 250,000 sq m facility," he revealed.
Ismail said that its EcoStruxure solutions have been central to enhancing performance across manufacturing plants and improving energy efficiency as well as safety.
"One of the case studies I'd like to point here is our support in the development of Sharjah's first waste-to-energy plant, which is a joint venture by Masdar and Bee'ah. We were commissioned to supply a range of electrical solutions at the facility. We also supplied and installed the facility's medium-voltage gas-insulated switchgear and EcoStruxure Power SCADA Operation (PSO) software," Ismail said.
"Our EcoStruxure Platform is a pioneering solution that sits at the heart of our IoT system architecture and collects critical data, from sensors to the cloud," he added.
MoIAT collaboration
Meanwhile, the company is reaping great results from its productive partnership with the UAE's Ministry of Industry and Advanced Technology (MoIAT), and has successfully enhanced the UAE's ongoing efforts to forge a globally competitive and sustainable industrial base.
"The collaboration is aimed at promoting sustainability across the UAE's manufacturing sector. Together with our customers and partners and in collaboration with MoIAT, we aim to achieve sustainability across our production in the UAE," Ismail said.
Earlier this year, MoIAT collaborated with Schneider Electric to find ways to boost the Emirate's ongoing efforts to forge a globally competitive and sustainable industrial base at the forefront of the Fourth Industrial Revolution.
"As a global specialist in energy management and automation, we remain committed to collaborative innovation to drive smart and sustainable manufacturing within the Mena region," he said.
Giving an update on the progress of the initiative so far, Ismail said owing to its strong and continued partnership with the ministry, Schneider is seeing a collective sustainability-oriented mindset across the value chain and through the ecosystem we operate in. "Together with our customers and partners and in collaboration with MoIAT, we plan to achieve a reduction in the carbon footprint of our production," he asserted.
"As per our collaboration, we are conducting on-site sustainability assessments of 50 manufacturers. We have made a concerted effort to assess and enhance the manufacturing landscape in the UAE and the results of this will be shared soon, adding to the collective intel on the state of manufacturing in UAE," Ismail said.
"We are also in the process of educating industry members on infusing digital transformation and energy efficiency across their processes. Finally, this collaboration will serve as a catalyst to upskill 50 Emiratis within the sector by means of a fruitful internship programme.
Digital transformation
Commenting on its approach to digital transformation in the manufacturing sector, Isamail pointed out that as we continue to make massive strides within the Industry 4.0 ecosystem, it is important that we stop and ask ourselves how long will we stay in the 4.0 era; where are we today in the Industry 4.0; and do we have the right workforce for the technologies driving us forward?
In the journey to integrating smart manufacturing and sustainability, Schneider Electric practices sustainability beyond a siloed and isolated approach. Industrial sustainability for electro-intensive industries is pillared against three elements which includes electrification, automation and digitisation.
"Our aim is to master the digital future of the industry we are in through an understanding that each revolution (such as the Industry 4.0) takes time based on process maturity, human capital maturity and technology maturity, and all of these go hand in hand," Ismail said.
"The UAE's manufacturing sector is instrumental to the diversification of the national economy and Schneider Electric are committed to this goal," he added.
Reasons for success in UAE
Schneider Electric says it has earned massive success in the UAE through strong, strategic partnerships with UAE's forward-thinking leadership. "Over the years, the nation has supported the private sector's participation in boosting the economy. As a major cog of the UAE's private sector wheel, we have been part of the UAE's future-proof initiatives and strategies," said Ismail.