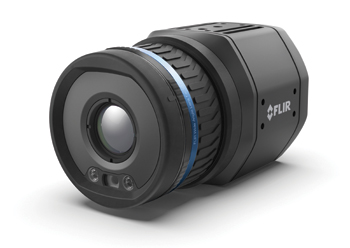 FLIR A400/A700TM thermal smart sensor camera
Fires that are not caught early or extinguished quickly can cause serious financial, environmental, and commercial distress for a company, as well as distress to the community. The potential of such a heavy burden means many companies prioritise preventing or mitigating potential fires at all costs.
THE CUSTOMER'S CHALLENGE
Most current fire systems are designed to contain a fire once it starts—which isn't always the most effective solution. A system that allows companies to avoid fires or stop them before they spark can save lives, save money, and prevent downtime, says Teledyne FLIR, a subsidiary of Teledyne Technologies, that specialises in the design and production of thermal imaging cameras and sensors.
THE SOLUTION
Fire is caused by rapidly increasing and excessive heat. As the heat on an object continues to rise it eventually bursts into a flame combusting and spreading even faster. However, if a fixed-mount thermal imaging camera is trained on the target area, temperatures can be monitored to catch the heat before the target combusts.
FLIR fixed-mount thermal cameras, from Teledyn FLIR, provide live temperature data updates up to 60 times per second to find rapidly heating areas before they catch fire. These thermal smart cameras use built in software to isolate regions of interest (ROIs) and report minimum, average, and maximum temperatures from the regions the user creates. Live data can be analysed internally by the camera to report unfavourable conditions or be connected to devices such as PLCs and computers to implement additional fire prevention action.
Some companies choose to create more advanced solutions by assembling custom early fire detection solutions with FLIR automation cameras. These systems can send out alarms at early signs of rising temperatures, allowing companies to save stockpiles of assets or turn off equipment that is following a trend of catastrophic failure.
THE TECHNOLOGY
FLIR offers a range of fixed-mount thermal smart cameras with built-in software for analysis and alarming. Monitor assets by configuring up to 10 ROI's using measurement shapes such as spots, boxes, or custom drawn areas in the frame using an easy-to-use web-based configuration window. Set conditions for alarming parameters and the response, such as data acquisition output type. Integrate FLIR smart cameras into a wide range of control processes using standard communication protocols, including RTSP, MQTT, RESTful API, Modbus TCP & Master, Ethernet IP, and FTP.
In addition to the smart cameras, FLIR offers a range of automation cameras that can stream temperature linear data or radiometric data through communication protocols like GigE Vision and RTSP. These infrared cameras interpret images using software such as Cognex Designer Pro, NI Software, Pleora Ebus, Teledyne, and Spinaker SDK.
Uncompromised data is repeatably and reliably generated from thermal detector arrays in either 320 × 240 or 640 × 480 options. FLIR thermal cameras can be tailored to one's application: select manual or automatic focus or change the lens when the field of view needs to be modified. Thanks to its unique compressed radiometric output, these cameras avoid overburdening processors. They also add value to the system by pairing a built-in visual camera and LEDs in partnership with the infrared camera.
EFD application areas are: food storage; lithium battery banks; monitoring transmission lines for fallen trees that cause wild fires; recycling plants; chemical storage; manufacturing plants with oil equipment; forestry; storage facilities; and energy generation turbines.