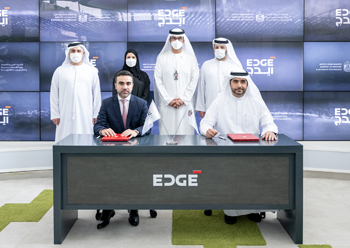 MoIAT and EDGE officials at the MoU signing ceremony
The UAE Ministry of Industry and Advanced Technology (MoIAT) and EDGE have signed a memorandum of understanding (MoU) to establish the UAE's first Industry 4.0 Enablement Centre.
The centre is aimed at promoting, enabling, and supporting the digital transformation and the adoption of Industry 4.0 technologies across the country's manufacturing sector.
The Ministry and EDGE will explore how the Enablement Centre can leverage what has been achieved by the EDGE Learning & Innovation Factory (LIF), a state-of-the-art learning, innovation, and demonstration centre for Industry 4.0, operational excellence, and advanced technology. Its offerings include learning, innovation, and demonstration to the wider industrial ecosystem, said a statement.
EDGE LIF is an end-to-end automated and integrated factory that demonstrates digital manufacturing use cases to trainees. Each trainee will be able to participate in a simulation to explore how technology can empower production. The Smart and Lean Production training at EDGE LIF is key to the Lean Digital curriculum. Lean Digital teaches how lead-times, quality and cost can be enhanced by the introduction of Industry 4.0 technologies.
The EDGE Learning & Innovation Factory SLF simulation is conducted over three rounds. It covers traditional production processes, mechanisms for discovering manufacturing and productivity challenges, and implementation of technological solutions that support operations. This includes digital work instructions and a dashboard of key performance indicators, which can lead to more advanced technical solutions, integrate automated work tasks, and mechanisms. These solutions include logistics smartwatches and barcode scanning smart gloves.
As part of this partnership, EDGE will host a series of initiatives, training courses, and programs at the facility from thsi month with the aim of accelerating technology adoption in the industrial sector.
Dr Sultan Al Jaber, UAE Minister of Industry and Advanced Technology, commented: "Based on the vision of our leadership, the ministry's strategy is committed to supporting local manufacturers to adopt advanced technologies and 4IR solutions. Advanced technologies help to enhance efficiency, productivity, safety, and quality while reducing costs, optimising supply chains, and creating jobs.