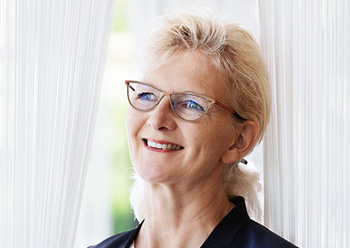 Meiny Prins
Food security and self-sufficiency are high up on the agenda of governments across the Middle East, with many countries having established national food security strategies. Amongst other factors, population growth, urbanisation, climate change, a fluctuating oil price, and most recently the global pandemic, are all factors that pose significant risks and challenges to sustainable food supply across the region. With only 1.7 per cent of the total land area in the GCC countries being arable due to the region's arid desert climate, up to 90 per cent of the total demand for food is currently imported.
There have been significant strides in food security across the Middle East in recent years through government investment, public policy, knowledge partnerships and innovation in the agriculture sector. Although these all bode well for the future of the sector in the region, there is still a lot of work to do to transition to a sustainable farming model and achieve environmental and local food production targets.
As a world leader in horticulture, we know how to create climates for growth. With sustainability at the heart of our business ethos, we lead the way in the development and production of technology for the optimisation of environmental conditions and process management. Our extensive knowledge and experience in horticulture and building automation allows us to develop innovative solutions for horticulture with a unique combination of knowledge, software, hardware, and cloud services. This is how we achieve optimal crop growth, conserve scarce resources and reduce our impact on the planet.
At Priva, our vision is to bring people, knowledge and technology together to contribute to a sustainable world where a growing population has access to safe and nutritious food. With this in mind, we opened our Middle East branch office in Dubai last year. Through our local presence we work alongside local entrepreneurs, farmers, investors, educational institutes and the government, to help create a sustainable food ecosystem.
Achieving sustainable agriculture is a long-term challenge for the sector globally and firmly embedded in the 'Zero Hunger' goal as part of the UN Sustainable Development Goals (SDG). With 1.3 tonnes of food being wasted - of which 75 million tonnes in the production of fruit and vegetables - whilst more than 2 billion people don't have adequate access to food, we all understand the importance and urgency in getting this right. In addition, food waste is a key contributor to climate change accounting for 8 per cent of global greenhouse gas emissions. Although food waste happens at every level in the supply chain, it's important to note in this context that 20 per cent of the fruit and vegetable losses happen in the production phase.
To safeguard sustainable food production, more and more controlled environment horticulture is needed. Part of the way forward to address this is the adoption of advanced technologies that allow growers to not only track their production yield and quality, but also their energy consumption and waste metrics. By integrating all essential processes in the growing environment, farmers can create an optimal climate using minimal resources including water and energy.
With fresh water scarce in the GCC countries and the oil price fluctuating, the optimal use of water and energy is critical in boosting local sustainable food produce. By deploying climate and process controls in farms, water and energy usage can be effectively tracked and metrics put in place to ensure the data can be used to optimise crop yield and nutrition and reduce food wastage.
Using advanced technologies will allow growers to focus on their true essence, the crop. This is what we call 'next level precision growing' - the ability to fully control and manage a crop, free from daylight and climate influences, 24/7 - a future-proof solution that's available today.
Controlled-environment agriculture is particularly well-suited for harsh climates such as in the Middle East and we believe will play a fundamental role in feeding the cities of tomorrow and achieving the region's self-sufficiency goals. Indoor farming allows for the year-round production of nutritious, pesticide-free food in urban areas with minimal transportation, water and waste.
The global indoor farming market is expected to reach a value of $24.9 billion by 2027 at a CAGR of 10.9 per cent from 2020-2027. In the Mena region, Vertical Farming grew from $0.38 billion in 2016 to $1.2 billion in 2021.
An important driver of the growth in the indoor growing market is the availability of sustainable and advanced technology solutions, including Artificial Intelligence (AI) and robotics. For example, our latest indoor and vertical farming solution Plantonomy (currently in pre-release), simplifies and automates the environmental controls of a greenhouse, using smart algorithms that follow a plant's biorhythm for predictive cultivation. It autonomously controls a large part of the climate settings every five minutes for irrigation, ventilation, heating, screening, and lighting of the greenhouse. The algorithm makes sure the water balance of the plant is steered according to the plan of the grower at each time of the day. By being in control of the water balance, uptake, transpiration and drain, growers manage the plant growth. This leads to fewer disruptions in growth and therefore a consistent crop development, predictable quality and yield, and an increased span of control. By working with Plantonomy, growers need less experience and knowledge about climate control logic and don't have to manually adjust hundreds of computer settings every day. The only thing they need to do is to feed in the right information based on their crop schedule.
In addition to AI, the implementation of robotisation is accelerating in the horticulture industry and addresses the global need for sustainable innovation. Robotics can automate processes and take over labor-intense and repetitive tasks for farmers, allowing them to focus more on quality, sustainability and yield and manage their labor costs better. This also helps to make farming more attractive to the next generation, which is critical as succession in farming is real challenge. Robots are most commonly used for harvesting and picking today, including Priva's Kompano, the world's first automated leaf cutting robot for tomato crops. The Kompano is the first robot on the market that can move around a greenhouse independently alongside employees. This makes 24/7 autonomous leaf cutting in horticulture a new reality.
From integrated climate, process and irrigation controllers, autonomous growing and greenhouse automation solutions, technology can transform agriculture and be instrumental in the development of sustainable food production and the achievement of food security strategies. The use of advanced technologies and automation can help farmers create a climate for growth; allowing their plants and their business to grow perfectly and sustainably.