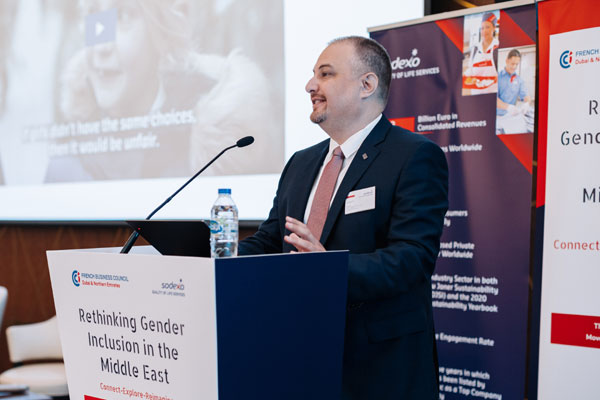 'Think Differently', 'Diversity is our Superpower', 'Different is Beautiful' and 'Acceptance', are just some of the many terms which concluded the insightful Diversity and Inclusion (D&I) conference focussing on "Rethinking Gender Inclusion in the Middle East" in the backdrop of Covid-19, hosted by Sodexo on June 3, 2021.
The company greeted over 60 decision makers from the education, healthcare, oil & gas, retail, FMCG, manufacturing and corporate industries to connect, explore and re-imagine organizations' gender-balanced initiatives.
The intuitive conference addressed key questions surrounding gender-equal workforce landscape in the Middle East through a series of interesting topics, including Intersectionality of Culture and Gender, Impact of Covid-19 on Women in the Workforce and Attract & Retain Women Talent. The informative panel discussion was followed by an interactive Q&A session with CEOs, HR Heads and Diversity & Inclusion Leads from the various sectors, a statement said.
Rachid Noujeim, CEO of Sodexo Middle East, said: "Gender balance in the workplace is an essential pillar of Sodexo's diversity and inclusion strategy, not only because it's the right thing to do, but also because a diverse and balanced team performs better and reflects and anticipates the needs of the 100 million customers and consumers we reach every day. The Middle East is an important commercial hub in the world and over the years the region has attracted several renowned organizations, entrepreneurs and start-ups, many of whom have become our clients. Considering 85% of our employees work on clients' sites, it is important for us to lead by example. At Sodexo, we strive to be the catalyst of change and gender balance and inclusion is not a choice anymore, it is a business imperative."
The insightful conference highlighted the intricate correlation between gender, race and cultural stigma, during the Intersectionality of Culture and Gender discussion, and showcased techniques that can efficiently be implemented within an organization to offset their concerns. The second discussion, the impact of Covid-19 on Women in the Workforce, shed light on the challenges women faced in the workplace as a result of the Covid-19 pandemic. Sodexo shared the benefits of retaining skilled and talented women in the workplace during the Attract and Retain Women talent discussion and as an added value, shared effective techniques to supplement this process.
The interactive panel discussion highlighted the need to implement diversity and inclusiveness beginning from the top within an organization. There needs to be a deep-rooted understanding of D&I, beginning from the companies' senior leadership teams, which can then be effectively implemented throughout an organization. At Sodexo, 55% of the total workforce consists of women and 60% of the Board of Directors. The discussions showcased not only support for women to excel in their careers, but levelling the playing field by encouraging women to explore their career opportunities in various male-dominated sectors, which needs to be positively instilled into young women and men from an early age. Diversity and inclusion begins at home and develops children's frame of thought, and only when this is achieved can society thrive at its optimal level. Sodexo aims to enhance its gender balance initiatives with a mission to increase women employee figure in management teams to 40% by 2025.
One key takeaway from the conference was highlighted in Sodexo's 'Diversity Wheel', which highlighted that individuals 'box people,' thereby grouping people based on their age, race, ethnicity and gender. 'Boxing people' can have a positive impact only if it is followed by curiosity and diversifying one's circle of trust.
Christina DSouza, Head Brand & Communications and Co-Chair of So Together - Sodexo MEA's gender network, said: "In the region, Sodexo focusses on four pillars of our Diversity & Inclusion strategy – Gender equality in all forms, standing against discrimination on ethnicity, culture and origin, hiring and providing equal opportunities to people with disabilities and being mindful of gender gaps. Diversity, equity, and inclusion has been one of the most widely ignored issues in the global business ecosystem until recently. In this age of globalization and rapid social change with more and more woman entering the workforce, the conversation around gender inclusion becomes ever so important, especially in the backdrop of the pandemic. The conference was able to successfully narrate and highlight key issues around gender balance and inclusion, but more importantly brought out best practices, insights and guidelines for organizations to be inclusive."
Sodexo has implemented several initiatives within the organization to ensure gender inclusive environments, such as its integrated gender network, 'So Together' and 'Spirit of inclusion' programme. In 2018, Sodexo signed the United Nations 'Women Empowerment Principals (WEP)' across its Middle East presence.
Furthermore, in 2018, Sodexo released a five-year study that collated and analysed data from over 50,000 managers from 70 entities worldwide, highlighting the impact gender parity has on five key business performance indicators. The study revealed that business incorporated a gender-balanced workforce experienced a 14% higher employee engagement rate, an 8% higher employee retention rate, a 9% increase in client retention, 12% higher workplace safety rate and an 8% increase in operating margins in comparison to external benchmarks. The study further highlighted that an equally balanced workforce was critical for organizations, positively impacting a business's financial and non-financial performance. To achieve optimal performance, organizations must adapt their business model to incorporate an equal or near-equal workforce mix between 40% and 60%.—TradeArabia News Service