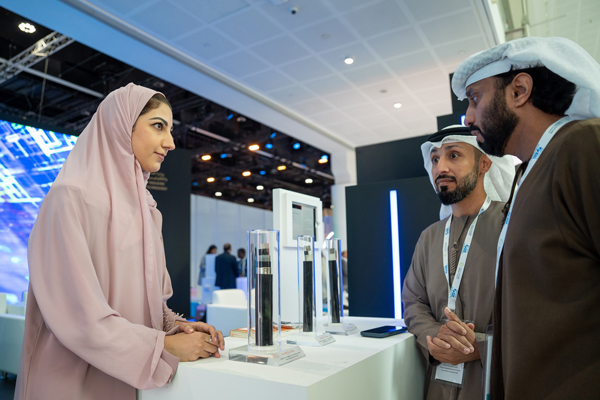 MOIAT at ADSW
UAE's Ministry of Industry and Advanced Technology (MoIAT) has issued a decree regulating the trade of recycled plastic water bottles in line with top public health and food safety standards.
Announced at Abu Dhabi Sustainability Week (ADSW) 2023, the new ministerial decision contributes to the UAE's commitment to preserving resources and supporting the shift to a circular economy.
It will help attract new investments by expanding the plastic recycling industry. It fits perfectly within the vision and objectives of the current edition of ADSW and supports the UAE's net-zero goals. This is projected to reduce carbon emissions, enhance the national in-country value by AED80-300 million ($22-82 million) annually, and create jobs.
Quality infrastructure
Omar Al Suwaidi, Undersecretary of MoIAT, said: "The new decision is in line with the ministry's strategic objective of enhancing quality infrastructure and the contribution of the industrial sector to national economy."
He noted out that MoIAT was keen to engage all stakeholders in developing the decision. Representatives of the National Food Safety Committee and UAE Food and Beverage Manufacturers Group, food and recycling experts and researchers were consulted to ensure the containers are safe to use as water bottles.
Stipulations
The decision allows the use of recycled polyethylene terephthalate (rPET) produced at MoIAT-approved recycling facilities that have obtained a certificate of conformity as per the UAE Regulation for Control on Food Contact Material
The decision also stipulates that the recycling facility must provide documents proving its adoption of an effective quality system and good manufacturing practices for materials that contact food. These include a report from an accredited lab in the UAE testifying that the recycled product has passed the safety test, a report indicating the compliance of the bottled water with health and safety requirements, including migration tests for packaging materials in accordance with the applicable technical regulations and regulations, and a risk assessment report for the quality and safety of recycled raw materials intended for use in bottling drinking water.-- TradeArabia News Service