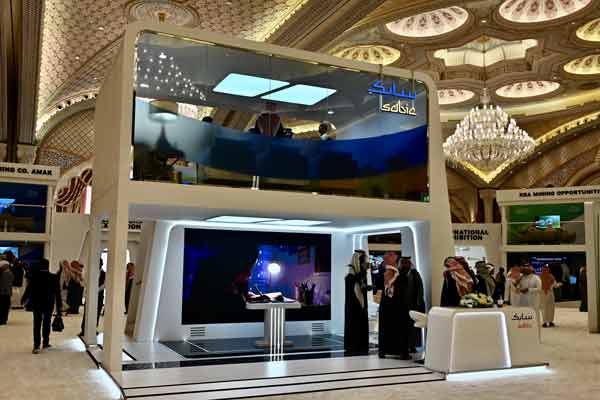 The Sabic booth at FMF
Sabic, a global leader in diversified chemicals, showcased its latest solutions in the mineral and metals industry at the Future Minerals Forum 2023 (FMF), where it took part as a Founding Partner for the second consecutive year.
Sabic also conducted a workshop on the final day of the forum, which touched on the topics related to iron journey from mining, beneficiation, and pelletising to steelmaking.
The workshop also talked about the steel industry's current status with regards to carbon neutrality and how it's moving forward to minimise the emissions in the upcoming decades, the different types of hydrogen and what constitutes a "green steel" product.
Zero emissions
It also highlighted the plans of the Saudi Iron and Steel Company (Hadeed), a Sabic-owned manufacturing affiliate, to achieve zero emissions with the current challenges and plant set up through carbon capturing, hydrogen reduction in direct reduced iron, as well as other options.
The workshop participants were also briefed on Hadeed's active efforts and cooperation with other entities to achieve carbon neutrality and develop well-thought-out plans and its carbon neutrality road map.
Sabic also had a booth for Hadeed and Agri-Nutrients Company (Sabic AN), highlighting Hadeed's current and future opportunities in the industry, and spotlighting the Saudi made Initiative. Sabic AN showcased three products that come from mining Phosphate (Dark DAP, light DAP and MAP).
The two-day second Future Minerals Forum, which concluded on January 12, was attended by 13,000 delegates (both physically and virtually), opinion formers and investors. The leading global conference welcomed over 200 international speakers tackling important current topics affecting the mining industry's supply chain, such as decarbonisation, technical innovation, digitisation, and exploration, and the most sustainable and environment-friendly ways to unearth precious minerals and metals lying across the super-region from Africa to Central Asia.-- TradeArabia News Service