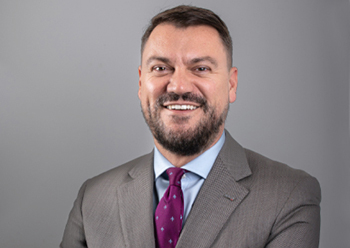 Phil Malem
With Covid-19 still impacting global supply chains in many countries and geo-political events in Europe triggering inflationary pressures across the world, we see the continued shift towards outsourcing being a major priority for governments and entities across the GCC region.
Particularly in the UAE, as it maintains its rapid and dynamic path towards economic diversification and development the need for delivering improved customer experiences across all fronts, at the same time as increasing flexibility and ensuring cost efficiencies, outsourcing will become of paramount importance for the public and private sector alike.
At the same time, we will see an evolving focus on providing outsourcing services for the Space sector, and also in the more established airline industry, which has traditionally had limited adoption of outsourcing, but this trend is set to change with the emergence of new airlines in the region. As part of this exciting opportunity, 2023 will see Serco launch a dedicated Space division in the region.
ESG ISSUES WILL BECOME A KEY FACTOR
With so much focus in the region on sustainability driven in part by the recent hosting of COP 27 in Egypt and COP 28 set to be hosted in the UAE next year, ESG strategies will become a strategically key focus and a business imperative for many companies and organisations.
There has been much talk about ESG, and some of it can be put down to an element of 'green washing', but we will see a concerted shift towards integrating ESG measures as a key component of annual reporting procedures.
This will be driven by two key factors, firstly many employees and particularly the younger generation entering the job market, are seeking organisations that are aligned to a strong 'purpose'. Consequently, they need to feel empowered by an attachment to positive corporate values, and therefore ESG will become an important part of this fabric moving forward in the region. In the case of Saudi this is not just about establishing the highest possible standards, it is also about providing employment opportunities for young job seekers, consequently strong nationalisation policies are absolutely central to ESG in the UAE and region as a whole.
Secondly, we will see a greater emphasis on advisory services in the region to support various entities and companies to embrace and implement relevant ESG practices into their organisations, not as a 'nice to have', but as a fundamental strategic imperative, as legislation and operating standards will demand a stricter adherence to critical ESG measures.
SPACE – AN EMERGING SECTOR
As mentioned, Space is a sector that will increasingly gain more focus in the region throughout 2023, especially with the UAE's ambitious space programme that has already witnessed the successful Mars probe. The importance of Space as a key theme should not be underestimated. It has proven to be an immensely powerful catalyst for technological advancement in a number of countries around the world, and it will arguably be just as critical in this region, as technology transfer and the development of domestic science and engineering capabilities play a key role in the National Visions of countries.
Therefore, we are excited about this prospect with our unrivalled capabilities in servicing various European space programmes, as a managed service integrator with many years of experience which we will be bringing to the region as of next year. We look forward to continuing our conversations with various entities, where the assimilation of strategic data from public satellite projects is becoming a fundamental national requirement, which we see as being vitally important to managing the ongoing development of new state of the art urban environments.
Space will also play a crucial role in impacting a range of other nationally important issues such as climate change, coastal monitoring and managing water assets … and we are ready to engage.
FIRE & RESCUE SERVICES - NEED FOR PRIVATISATION
We believe that there will be a positive move towards the privatisation of fire and rescue services (FRS), especially with the focus on the creation and development of world class living environments.
Basic human safety should be a fundamental requirement of everything we do, it is not an optional extra, therefore we will see a major step forward in the approach towards managing fire and rescue services. As governments and organisations realise that FRS is a 'super skill', in the same way we view air traffic control and airport security.
FRS requires good people, the latest world class best practice and procedures and a proactive approach towards up-skilling, training, and recruitment. Serco's dynamic approach to training allows us to provide an accredited and certified fire and rescue workforce either through use of Serco's own training facilities, at our International Fire Training Centre in the UK, here in the Middle East or at client facilities. The challenge many organisations face is that FRS is not what they specialise in, it is a fundamental safety requirement that they must have, therefore considering outsourcing is becoming a viable imperative for many key decision makers.
At the same time, effective outsourcing will deliver better cost efficiencies as well as increasing overall capability. Consequently, the privatisation of FRS is becoming integral, and as we see this trend emerging it will only gather momentum as we go into 2023, particularly as the region is hosting more and more high-profile events on a world stage.
ONE CONSULTANCY APPROACH AND IN COUNTRY VALUE
We will continue to see the evolving and positive trend for clients looking for companies who not only provide world leading best practice advisory services, but also have the capability to support with delivering on proposals, by implementing and operating the necessary solutions.
We also see the requirement for strong in-country value. International consultancies cannot simply come in, do their job and leave. There needs to be an element of workforce sustainability and knowledge transfer.
Given Serco's work is predominantly in the public sector, supporting various governments across the region, we have received record job applications this year and are confident of meeting our ambitious nationalisation targets. Our train, transform and transfer model ensures that even after our contract finishes, the client's team on the ground are left with the knowledge, skills, and tools to continue delivery.
CUSTOMER EXPERIENCE WILL ONLY GET BETTER
Customer Experience is still a rapidly evolving area in the region as many entities and organisations are xdemanding higher and higher customer experience standards. The opportunities surrounding customer service excellence have never been greater in the region. Therefore, we will continue to see exciting innovations around customer service delivery and interaction as various new and improved practices evolve.
Serco, with its world leading ExperienceLab is dedicated to continual research and innovation in developing and improving customer experience, and the various projects that we are currently engaged with in the region provide the perfect platform to refine and enhance our approach to tackling this hugely exciting and dynamic area.