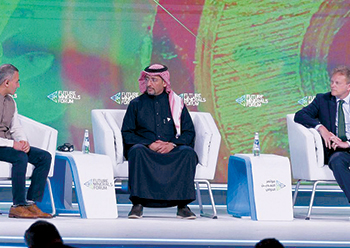 Bandar Ibrahim AlKhorayef at the Future Minerals Forum in Riyadh
As the New Year rolled out, the world saw the Kingdom of Saudi Arabia ramping up its mining activity with several strategic initiatives as per the goals of the Kingdom's Vision 2030 and the National Industry Development and Logistics Program, to transform mining into the third pillar of the national industry.
Saudi Arabia has been actively seeking to attract local and international investors in mining – identified as a key sector with significant potential for future development and as a driver of future non-oil growth and job creation, other than oil and gas and petrochemicals.
"The future of mining in Saudi Arabia is promising with the unveiling of reserves of minerals valued around SR5 trillion ($1.3 trillion) for exploration," the Minister of Industry and Mineral Resources, Bandar Ibrahim AlKhorayef recently said at an event, according to a Saudi Press Agency (SPA) report.
The country estimates its untapped mineral resources have a potential value exceeding SR4.9trn ($1.3trn), according to the Saudi Geological Survey (SGS). This mining potential includes gold, copper, phosphate, iron ore and rare earth minerals. The Kingdom aims to become part of the global supply chain for raw materials, which are expected to see an increase in demand from key sectors in the future such as renewable energy. Minerals are set to play a crucial role in the global transition to a low-carbon energy system.
The Kingdom currently accounts for about 37.9 per cent of the Middle East and Africa's $16 billion metals and mining market, official data show. Its mining industry has grown 27 per cent annually to reach more than $194 million – achieving its highest revenue last year.
INVESTMENTS
Currently, the Kingdom is seeking to attract more capital into its lucrative mining industry to expand its contribution to the gross domestic product to at least $64 billion in 2030.
The Kingdom awarded 210 metal industry permits and attracted more than SR120 billion ($32 billion) in domestic and foreign capital into the metals sector in 2022, said Khalid Al-Mudaifer, Saudi Deputy Industry and Mineral Resources Minister.
He told the Saudi Almadina daily that the largest Arab economy awarded 16 new mining contracts in 2022, an increase of nearly 60 per cent over the previous year.
"The Kingdom is planning to intensify a drive to attract more investment in the mining sector to boost its contribution to GDP to over $64 billion in 2030," Al-Mudaifer said.
Additionally, the Kingdom is processing 145 exploration license applications sent in by foreign companies.
In fact, Saudi Arabia is looking to attract $170 billion of investment in its mining sector by the end of the decade, exploiting rising global demand for metals crucial to the energy transition, Bandar Al Alkhorayef told Bloomberg TV, last year.
The kingdom "targets to finance nine mining projects for midstream minerals and metals," SPA quoted Bandar AlKhorayef, as saying. The coming projects aim to supply mineral products to local as well as international markets,
In 2020, the kingdom approved a mining law to boost foreign direct investment (FDI) in the sector, which came into effect in January 2021. Among the elements expected to attract investors are the Kingdom's varied geology, the mining ecosystem it has developed and its focus on sustainability.
In October 2020 the Kingdom launched the Regional Geological Survey Programme – one of the world's largest geophysical and geochemical surveys, signing four contracts with international experts worth a combined SR553 million ($147 million). In December 2021 the SGS launched the National Geological Database, which provides online access to national records of geological information, including maps and surveys of mineral deposits in the Kingdom.
NEW INITIATIVES
To further regulate the country's mining businesses, recently, Saudi Arabia's Ministry of Industry and Mineral Resources and the Diriyah Gate Development Authority signed a memorandum of understanding, SPA reported.
Under the MoU, both parties will enhance cooperation in all common fields that serve the various sectors related to regulating mining works in the Kingdom.
The new MoU comes in line with the ministry's efforts aimed at preserving the natural resources in the Kingdom and maximising their utilisation, SPA reported. Both parties will also be sharing the relevant data and studies, including exchanging geotechnical and geophysical data and studies, to locate quarries to obtain the necessary materials for building the authority's projects of a unique urban character.
NEW GLOBAL MINING ASSETS JV
Further, a new company that aims to invest in mining assets globally was established last month (January 2023) by Saudi Arabia's sovereign wealth fund PIF (Public Investment Fund) and Ma'aden, one of the world's fastest-growing mining companies.
The new firm will invest in iron ore, copper, nickel and lithium, as a non-operating partner with minority equity positions. It will also try to sign supply agreements with the companies and mines it invests in, said Maaden in a statement.
As per the deal, Ma'aden will own 51 per cent and PIF will own 49 per cent of the company. The company will be incorporated after obtaining approvals from the relevant authorities, and satisfying certain conditions of the JV agreement.
The agreement is in line with PIF's mission to build strategic economic partnerships to achieve sustainable returns and unlock the capabilities of promising sectors with significant long-term growth potential, in line with Vision 2030.
It also aligns with Ma'aden's 2040 Strategy to focus on upstream mining activities and gain exposure to future minerals as well as build partnerships with global mining companies.
The move is mainly aimed at securing strategic minerals that are essential for Saudi Arabia's industrial development as well as the resilience of global supply chains, said a senior official at the signing ceremony held on the sidelines of the Future Minerals Forum.