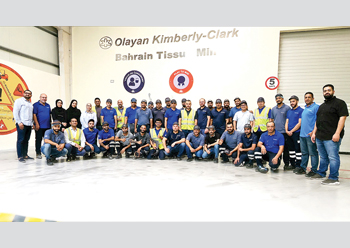 The proud Olayan Kimberly-Clark Bahrain facility team
Olayan Kimberly-Clark's Askar manufacturing facility in Bahrain has reduced its 2021 water footprint by 55 per cent within a span of just three years. The facility's consistent reduction of freshwater consumption year on year has resulted in saving more than 52 million gallons in the last five years, the company said in a statement.
Located in one of the most water-stressed regions in the world where the Gulf Cooperation Council countries' water consumption is expected to hit 33,733 million cubic meters by 2050, the Askar manufacturing facility team was inspired by the Global Sustainable Development Goals (SDGs), as well as Kimberly-Clark's own 2030 sustainability goals, to make their freshwater consumption more responsible and efficient.
To achieve their objective, the facility team collaborated with the regional Kimberly-Clark team on a watershed analysis and conducted a best practices audit with other Kimberly-Clark facilities and the government to identify opportunities for water consumption reduction.