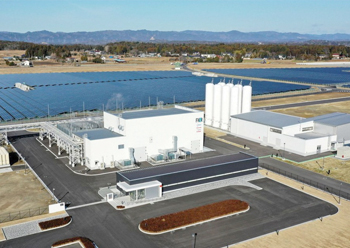 Oman's first major green hydrogen project planned in Suhar
Oman's green hydrogen sector is the most developed in the GCC and will become a major contributor to Oman's GDP and external balances by 2030, a report says.
The Sultanate of Oman has a long line of green hydrogen projects and the best plan to achieve the goals, according to experts at Oxford Analytica, an independent geopolitical analysis and advisory firm drawing on a worldwide network.
Oman plans to achieve an actual production of 30 gigawatts of electrolyser by 2040, the report said, noting that there is an increasing demand from investors in this field due to the stimulating natural data in the Sultanate, such as the sun, wind and earth resources, as well as supportive government policies in this regard.
"The hydrogen sector will become a major contributor to Oman's GDP and external balances by 2030, which will offset the decline in oil revenues. The Sultanate of Oman will increasingly shift its marketing focus from Asia to Europe, as the latter attempts to reduce its energy dependence on Russia, and regional sovereign wealth funds are likely to be major investors in Oman's green hydrogen revolution," Oxford Analytica said.
Green hydrogen strategy
To recap, the Sultanate of Oman has set an ambition to become one of the largest green hydrogen producers and exporters globally, aiming to ramp up production of green hydrogen to 1-1.25 million tonne per year (mtpy) by 2030.
To reach this production target Oman has earmarked two blocks in Duqm on Oman's eastern coast, and another four blocks in Salalah, each covering an area of 320 sq km, to be tendered for development. The blocks in Duqm is being offered publicly, in hopes of reaching an award by March 2023, and the Salalah blocks in April 2023, with the aim of announcing awards by the end of the year, an Argus report said.
By 2040, Oman aims to boost green hydrogen production to between 3.25-3.75 mtpy, rising further to 7.5-8.5mtpy by 2050. The country estimates it will need a cumulative $140 billion in investment over this period to reach its 2050 production goal. In total the sultanate has selected three regions in central and southern Oman for green hydrogen production: Duqm, Dhofar and Al-Jazir. The produced hydrogen will cover domestic demand and be exported, with Europe and Asia the most likely offtakers.
As part of its newly developed green hydrogen strategy, Oman has also set up a new state-owned company, Hydrogen Oman (Hydrom). The new entity, which was previously expected to be called Hydrogen Development Oman (HDO), will be a fully-owned subsidiary of Oman's state-owned Energy Development Oman (EDO). Hydrom will be regulated by Oman's ministry of energy and minerals.
Hydrom's mandate includes the delineation of government-owned land areas and the structuring of associated large-scale world-class green hydrogen projects. It will manage the project allocation to developers as well as facilitate the development of common infrastructure and connected ecosystem industries and hubs in close collaboration with the Public Authority for Special Economic Zones and Free Zones (OPAZ).
"Green hydrogen presents itself as a key vector that enables Oman to pursue its decarbonisation, economic and energy security objectives," said Oman's minister of energy, Salim bin Nasser Al Aufi.
Oman it may be mentioned, has pledged to achieve net-zero greenhouse gas emissions by 2050.
Actual production plan
The Oman green hydrogen plant will use renewable energy to split water in an electrolyser, producing hydrogen. The plant's total reliance on renewable energy will result in actual environmental benefits and a reliably green hydrogen fuel product.
According to Ben Pilkington who wrote in azocleantech.com, hydrogen fuel is a much cleaner fuel to use in terms of emissions, the significantly large energy costs to split water and produce it typically outweigh the emissions benefit. All hydrogen fuels are cleaner than fossil fuels in terms of emissions and pollution. Hydrogen does not burn off carbon when it is used and does not increase CO2 levels in the atmosphere.
The Oxford Analytica report was prepared by experts from one of the world's most famous advisory institutions and is based in London.
"The start in this field in the Sultanate of Oman was weak, and the adoption of renewable energy sources for power generation, despite the favourable climatic conditions and the lack of natural gas. But the government and foreign investors have recognised the Sultanate's potential to develop green hydrogen (based on renewable energy sources). And the first projects are launched in 2020, as more countries and companies look to clean fuels to help solve the challenge of decarbonising economies," the report noted.
The report indicated that the Sultanate's government's decision was driven by four interrelated factors: (1) The domestic and external financial crises caused by the decline in oil prices in 2020; (2) The high cost of oil production in the Sultanate and the low levels of reserves; (3) Gas shortage caused by high domestic demand, limited production and the need to meet LNG export contracts; (4) Acknowledgment that the Sultanate of Oman needs to diversify its economy from dependence on hydrocarbons.
The report indicated that Duqm has an ideal location for export. Because it is located on major global trade routes, and just outside the crowded and politically sensitive Strait of Hormuz, Duqm is sparsely populated, with sun-rich hinterland, ready to host the much needed massive solar arrays.
The report concluded that the growing momentum behind the development of green hydrogen in Oman will intensify over the next decade, benefiting from the development of the nascent industry with lower production costs, acceleration of decarbonisation efforts and the development of the international market in both green hydrogen production and its liquid carriers.